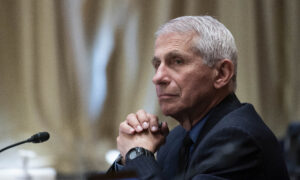 Infectious disease expert Dr. Anthony Fauci said on Wednesday that Americans vaccinated against COVID-19 will most likely need a booster shot at some point in the future to guarantee continued protection but that the timing remains unclear.
"I don't anticipate that the durability of the vaccine protection is going to be infinite—it's just not. So, I imagine we will need, at some time, a booster. What we're figuring out right now is what that interval is going to be," Fauci said during a Senate Appropriations subcommittee hearing while testifying about the state of medical research and the National Institutes of Health's budget for fiscal 2022.
Fauci said that a possible timeline for a booster is being studied by public health experts.
"We know from studies following people from the original clinical trials that the protection goes out at least six months and likely a year," he later added. "I believe we will need a booster. I'm not exactly sure when."
Last week, the CEOs of vaccine makers Pfizer and Moderna suggested that a booster shot for COVID-19, the disease caused by the CCP (Chinese Communist Party) virus, may be needed roughly eight to 12 months after Americans are fully vaccinated.
"People at highest risks [elderly, healthcare workers] were vaccinated in December/January. So I would do [a] September start for those at highest risk," Moderna CEO Stéphane Bancel told Axios in an email.
"The data that I see coming, they are supporting the notion that likely there will be a need for a booster somewhere between eight and 12 months," Pfizer CEO Albert Bourla said during an Axios event.
Fauci, the head of the U.S. National Institute of Allergy and Infectious Diseases (NIAID), said during the same event last week that a booster shot will "almost certainly" be required "sometime within a year or so."
Scientists still do not know how long the COVID-19 vaccines will confer immunity, and what portion of those vaccinated do not transmit the virus, although data suggests that the vaccines should provide up to six months of immunity from at least symptomatic disease.
For people who have recovered from COVID-19, a study funded by the National Institutes of Health found that many of the participants developed a strong immunity against the disease for up to eight months after infection. Some doctors have shared on social media that they still had antibodies a year after they were infected with the CCP virus.
According to data published by the Centers for Disease Control and Prevention on Tuesday, half of American adults are now fully vaccinated against COVID-19.
President Joe Biden has set a vaccination goal of delivering at least one shot to 70 percent of adult Americans by July 4.
Several states have ramped up efforts to incentivise Americans to get vaccinated, offering cash prizes for doing so.
On Tuesday, Colorado became the latest state to roll out a lottery program to encourage residents to get vaccinated against COVID-19.
Five randomly selected Coloradans above the age of 18 who have received at least one dose of the vaccine by the end of June will be selected to win $1 million each, Gov. Jared Polis announced.
In Ohio, the COVID-19 vaccination rate surged after Gov. Mike DeWine said that five residents will win $1 million each as a monetary incentive for getting inoculated.
New York and Maryland on May 20 also announced that they will be rolling out similar vaccine incentive programs.
Meiling Lee contributed to this report.