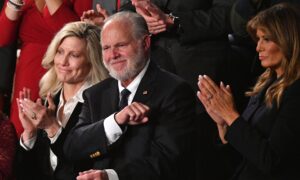 Premiere Networks has announced that conservative commentators Clay Travis and Buck Sexton will host a new show in place of Rush Limbaugh's three-hour radio show following the iconic commentator's death to lung cancer.
Travis, a Fox Sports Radio host and founder of sports site Outkick, will join Sexton, host of The Buck Sexton Show, in taking the mantle of Limbaugh's program starting June 21.
"The Clay Travis & Buck Sexton Show launches June 21 in Rush Limbaugh's legendary 12 – 3 p.m. ET timeslot!" Premiere said in a tweet.
In a statement on Twitter, Sexton said he "could not be more excited to step onto the biggest platform in radio" with Travis.
"We're going to do a show that will make Rush listeners proud and bring a new generation of audience to the table," he wrote.
Travis penned an op-ed on Outkick, in which he confirmed the news and called the offer to co-host the show "an opportunity I couldn't pass up."
"No one will ever replace Rush Limbaugh. No one ever replaces a legend, and Rush Limbaugh is the most influential and listened to radio voice across multiple generations," Travis wrote.
"But the battles Rush fought aren't ending. If anything, they're just becoming more intense. And I think intense and rigorous and intelligent debate has never been more important in this country than it is right now," he added.
"Unfortunately in our modern woke culture, most people don't make their own bold choices. They think about what they're supposed to say or what they're supposed to believe, and then they seek, like sheep, to follow the lead of the woke masses. I've never done that, and I never will," Travis wrote, adding, "See you on June 21st."
There was widespread speculation over who would take over from Limbaugh, with Cumulus Media, which carried his shows on most of its stations, announcing in March that Fox News personality Dan Bongino would fill Limbaugh's time slot on its network of affiliates.
The Dan Bongino Show debuted on Monday, with a guest appearance from former President Donald Trump, who said he is seriously considering another run for the White House in 2024 and that he would announce his official decision "when the time is right."
Following Limbaugh's diagnosis last year with lung cancer, Trump awarded him a Presidential Medal of Freedom.
Shortly after his death, the former president praised Limbaugh as a "legend" and a "great man."
"He was a very unique guy. And he had tremendous insight. He got it. He really got it," Trump said in a Feb. 17 phone interview on Fox News.
The Conservative Political Action Conference held in February inducted Limbaugh into the Conservative Hall of Fame.