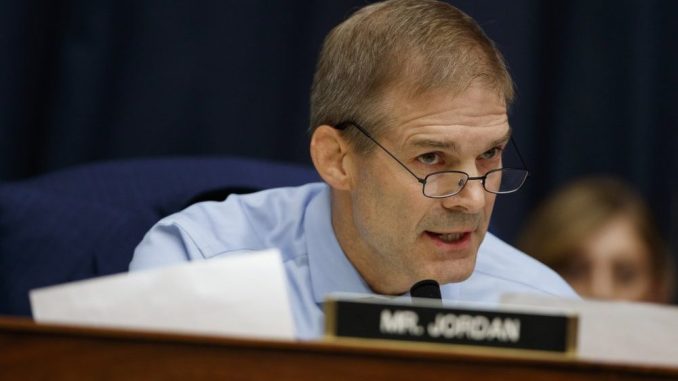 OAN NEWSROOM
UPDATED 3:50 PM PT – Monday, July 25, 2022
GOP representative Jim Jordan (R-Ohio) said he believes former President Trump will run in 2024. The Congressman made the comment during an interview on Sunday, in which he also said he is going to do everything he can to help Trump win.
" If he wins, and that's what I'm for," Jordan said. "I've been for that. Since he left on January 20, I wanted him to run in 2024. I think he's going to. I think he is the right candidate."
The Republican said he doesn't think January 6 will impact Trump's chances and added that the American people know he will fight for them. Jordan also predicted America is going to be "so much better off" if Trump is GOP presidential nominee in 2024 and wins.
Trump has made remarks over recent months expressing openness to another run for the presidency in 2024. Jordan recalled the Trump administration's use of a whiteboard to catalogue the fulfillment of Trump's campaign promises.
"We have never had a president who did more of what he said he would do than President Trump," he stated. "I remember early on when I was in the White House they were in the West Wing in one of the offices. They had a whiteboard on the wall and literally they had every single policy and every single promise that President Trump made to the American people in the campaign of 2016. They were literally just checking them off as he did them."
Wondering where "Leave White House in 7 months" is on Bannon's whiteboard pic.twitter.com/O7UvFtA7y1

— Chris Lu (@ChrisLu44) August 18, 2017
In a @TPUSA straw poll today at their summit in Tampa, young conservatives overwhelmingly selected Trump as their choice for president if he launched a re-election bid.

DeSantis was a distant second. pic.twitter.com/q4Pl9iPNro

— Julia 🇺🇸 (@Jules31415) July 24, 2022
Jordan's remarks come as recent polling indicates Trump would be the front runner for the GOP nomination if he were to launch a bid for the White House.