Commentary
Twenty-one people running a mountain ultramarathon in northwestern China died after extreme weather conditions hit the high-altitude race, the Chinese communist regime announced on May 23.
The 100-kilometer (62-mile) mountain race was being held on May 22 in the Yellow River Stone Forest tourist site of Baiyin city in Gansu Province, when it was hit by hail, freezing rain, and gale-force winds that caused as many as 21 deaths out of a total of 172 participants. Liang Jing, a well-known runner who had won a 62-mile race in Ningbo, and Huang Guanjun, the marathon champion for hearing-impaired runners at China's 2019 National Paralympic Games, were among those who died.
Gansu and Yunnan Marathon Deaths
In fact, just within the first week of this month, two other separate marathon deaths were reported. On May 5, a senior executive of a Shanghai-based corporation suffered a sudden cardiac arrest and passed away while running a desert marathon held in Guazhou of Gansu Province, according to Chinese social media Weibo. On May 6, a runner named Yang Lijie died in another mountain ultramarathon in Zhaotong city of Yunnan Province, Chinese news portal Sohu reported.
At least 15 marathons were held in China during this year's May holidays— from May 1 to May 5, according to Chinese news portal NetEase. And within one week before that, there were more marathons in Beijing on April 24 with about 10,000 participants and Huai'an of Jiangsu Province on April 19.
In addition, "Run China," a national annual marathon series co-organized by the Chinese Athletic Association (CAA) and CCTV state-run media, has enrolled a total number of 24 selected events spanning cities in China so far this year, according to the state-run media Xinhua.
In retrospect, marathons were originally a kind of niche event, but have become hugely popular in China since 2010, except for 2020 due to the epidemic. An official document released by the CAA called "2019 China Marathon Blue Book" shows that the number of participants in marathon races reached over 7 million in 2019, while the number of marathon-related races increased from 13 in 2010 to 1,828 in 2019, a stunning 140-fold surge, according to Chinese news portal Sina.
In fact, marathon races have been blooming across China in recent years, spawning an entire domestic marathon industry worth tens of billions of dollars. Although most domestic marathons can rely on the sponsors' fees to run the races, race operators can further generate revenue by collecting registration fees from ordinary runners. Depending on the length of a particular race, the fees varied from $12.00 to $37.00 in 2018. In 2019, registration fees alone may have generated hundreds of millions of dollars. The total annual domestic marathon industry output reached $11.4 billion in 2018 and continues to rise, according to a report by the CAA.
A marathon event is profitable for the event operator and brings big business to the hosting city to boost the local economy, including its restaurant, tourism, and retail sectors. Take the city of Xiamen, in southeast China's Fujian Province, for example, statistics show that the Xiamen Marathon boosted city business revenues by more than $92 million in 2017, according to Sina.
So it is easy to understand why city governments across China are keen to hold marathon events.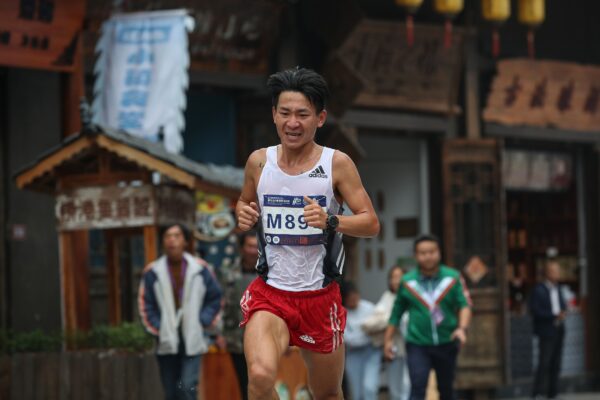 Unlike marathons held in other countries, those that take place in China are all under the control of Beijing and local authorities of the Chinese communist regime, which means that it is not easy for private businesses to get a slice of the big pie, which keeps on getting even bigger.
As far as the central authorities are concerned, the state-run CAA still controls most of the events as the official organizer. For example, as part of a joint venture with the CAA in April, China Olympic Road Race Sports Management was not only responsible for hosting the Beijing Marathon but also obtained the operation rights to local large-scale marathon events, such as the Huai'an Marathon, which had a winning bid of $1.22 million.
However, local authorities can also become the organizers of the races, which are operated by companies or organizations that are either controlled by or have close ties with the local authorities.
For example, the recent Gansu ultramarathon was organized by the municipal government of Baiyin, Gansu Province, and hosted by Jingtai county. The event was operated by Gansu Shengjing, a company that undertakes many local government projects.
On May 23, at a press conference, Zhang Xuchen, Baiyin city Party Committee Deputy Secretary and Baiyin mayor, classified the incident as a public safety issue—caused by a sudden change in local weather.
Although the Chinese media generally believes the extreme weather could not have been avoided, it failed to hold the organizer accountable for not taking precautions to ensure the runners' safety. With such a high number of casualties, the race could be passed off as a natural disaster caused by extreme weather, but in fact, it was a man-made disaster caused by the extreme negligence of the organizer.
More people were killed in the mountain ultramarathon than in the recent earthquake that hit the region. Critics accused Baiyin authorities of extreme negligence because they should have valued human lives by spending more money to strengthen safety measures, or they simply should have canceled the race based on weather forecasts. A close friend of Huang said, "He was deaf and dumb and couldn't even call for help."
Speaking of the marathon organizers and hosts that have disregarded the safety and health of the participants, Beijing officials have to be held accountable.
As a most recent example, on May 23, the Beijing Meteorological Bureau issued a warning for hazy and dusty weather in most areas, with a minimum visibility of only 2 to 3 miles. However, the Beijing Marathon still started on the same day, with tens of thousands of runners participating under hazardous conditions.
In 2014, at an international marathon in Beijing, the PM2.5 scale, which measures the number of micrograms of particulate matter per cubic meter, went up to a whopping 344, as compared to the 25 micrograms considered to be healthy by the World Health Organization. Tens of thousands of participants had to wear gas masks, braving the choking smog that again blanketed the capital. Chinese netizens criticized the organizer for insisting on holding the race without postponing it despite knowing the hazy forecast and completely ignoring the hazards to the runners' health. Some frustrated runners called it a "smog-athon."
The Chinese communist regime is the driving force behind the national marathon rush in China, and the so-called marathon economy is a monopolistic business—from the state-run CAA down to all local governments. However, as some domestic media have said, the profit and money-driven behavior that comes with it has deviated from the original purpose of the marathon, which was originally aimed at promoting health. The replacement runners and sudden deaths are just the tip of the iceberg in the chaos of the nationwide marathon rush.
Chen Simin is a freelance writer who often analyzes China's current affairs. She has contributed to The Epoch Times since 2011.
Views expressed in this article are the opinions of the author and do not necessarily reflect the views of The Epoch Times.