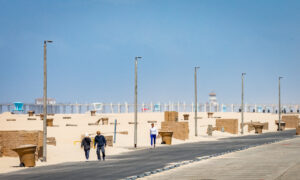 More than 1.5 million people in Orange County, Calif. are fully inoculated against COVID-19, the Orange County Health Care Agency (HCA) says.
Data from its tracking platform revealed on May 26 that 1,500,870 people have completed their vaccination cycles. An additional 351,541 patients received their first dose of a COVID-19 vaccine.
"We're optimistic that we are on the right side of this pandemic and continuing to move in the right direction," Supervisor Don Wagner told The Epoch Times.
Vaccination figures are rising as California prepares for the full reopening of its economy in mid-June.
On June 15, capacity limits will lift on restaurants and shops. Social distancing guidelines will also be dropped.
The state plans on fully aligning with CDC guidelines—which say vaccinated people aren't required to wear masks—beginning June 15.
However, the state is planning on enforcing guidelines when it comes to large-scale events. For indoor events, the state will require proof of vaccination or a negative COVID-19 test. Although those same rules aren't required for similar outdoor events, they are recommended.
As Orange County officials continue their inoculation efforts, Wager said they are facing some resistance.
"We are seeing some folks that are resistant to taking the vaccine, and part of that challenge is respecting those who have religious or medical [concerns]," Wagner said. "[We're] balancing their interest with the need of the community to have a more robust widespread immunity, or at least a lessening of susceptibility to the disease."