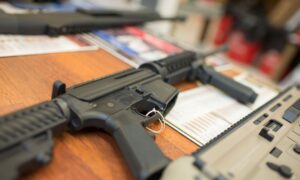 The U.S. Court of Appeals for the Ninth Circuit this week dismissed a case against a Portland, Oregon, public school district where students were encouraged to attend an anti-gun protest, saying that the issue was about peer pressure rather than compelled speech.
The lawsuit was filed in 2019 by two couples on behalf of their three children attending schools at Portland Public Schools (PPS). The parents, who described themselves as a pro-gun political minority, claimed that their First Amendment rights were violated when the district took part in a nationwide school "walkout" protest in favor of stricter government control on guns.
The protest took place on March 18, 2018, a month after a teenager shot and killed 17 of his former classmates and teachers at Marjory Stoneman Douglas High School in Parkland, Florida. According to the complaint (pdf), students at PPS were "expected to participate in these demonstrations unless they affirmatively opted out."
"Instead of training children to hear and learn about multiple perspectives on an issue, and debate the merits, PPS trains children to react emotionally based on one-sided propaganda and act out in violation of the rules and norms established by representative government," the parents alleged in the original filings, arguing that they were forced to pay for political activity they disagree with, because part of their tax money funded the district.
"The City of Portland is arguably seeing the results of defendants' hyper-politicization of children already as it becomes widely criticized for extreme disorder in public meetings," they added.
In a ruling on Monday, the Ninth Circuit's three-judge panel, consisting of two Clinton appointees and one Obama appointee, upheld a lower court decision, saying that the parents lacked standing to allege tax money misuse, and that they failed to show the district forced the students to participate in the anti-gun walkout.
"The complaint only alleges expenditures in the form of 'ordinary costs' associated with operating the School District," the court said, noting that taxpayers can't sue simply because they dislike certain policies. Given that the parents didn't identify how much money the district specifically spent on the walkout, the court said their grievance "is not a direct dollars-and-cents injury, but rather an ideological dispute about the content of the school day."
When it comes to the First Amendment violation claim, the court said the school district did not force anyone to participate in the protest, although it's possible that students who didn't want to participate might be bullied.
"Alleged peer pressure to participate in the protests did not constitute government compulsion," the court opinion reads.