The United States this week hit a major milestone in efforts to administer COVID-19 vaccines to the population.
Approximately 50 percent of adults 18 or older as of May 26 have been fully vaccinated against the CCP (Chinese Communist Party) virus, which causes COVID-19, according to federal data.
"This is a major milestone in our country's vaccination efforts," acting COVID-19 administrator Andy Slavitt told a virtual briefing.
Just 1 percent of Americans were fully vaccinated when President Joe Biden took office on Jan. 20.
U.S. regulators granted emergency use authorization to two COVID-19 vaccines the month prior. Both vaccines require two doses. Fully vaccinated refers to people who get both doses of the Moderna or Pfizer vaccine, or the single-shot Johnson & Johnson jab, which was authorized in March.
Half of U.S. states and Washington D.C. have fully vaccinated 50 percent or more of their adult population, with 9 states seeing 70 percent of more adult residents being fully vaccinated.
"I really do want to applaud all of the good work and applaud all the people in those states," Slavitt said, praising people who have gotten a vaccine and connecting the figures with the drop in COVID-19 cases, hospitalizations, and deaths seen across the nation in recent months.
Another nearly 11 percent of U.S. adults have gotten at least one vaccine dose, putting them within several weeks of being fully vaccinated.
One of the most vulnerable populations, those 65 years old or older, are a big portion of the fully vaccinated. Almost three-quarters of that population is fully vaccinated, according to federal data.
The rising number of fully vaccinated means that some states are approaching the threshold of herd immunity, which also includes those who previously had COVID-19 and recovered, Dr. David Boulware, a professor of medicine at the University of Minnesota's Division of Infectious Diseases and International Medicine, told The Epoch Times via email.
In those states, widespread community transmission "has effectively stopped, and one is left with localized focal outbreaks," he said. But "based on the dichotomy in vaccination rates across states activity will likely still occur for some time."
Many experts have bemoaned people who refuse to get a vaccine, trying to devise methods to convince them to change their minds, such as introducing lottery schemes and other incentives.
Dr. William Schaffner, professor of Medicine in the Division of Infectious Diseases at the Vanderbilt University School of Medicine, said the 50 percent milestone is "a stupendous achievement."
"But where's the other 50 percent? How come those other adults haven't come forward and rolled up their sleeves and been vaccinated?" he said during an appearance on MSNBC.
The challenge now is finding ways to be "even more persuasive" to reach the unvaccinated, he added.
One major point of contention is whether people who have gotten sick and recovered still need a vaccine. Some, including Sen. Rand Paul (R-Ky.), a doctor, say they do not because they now have "natural immunity." Others are choosing not to get vaccinated because of concerns about the safety of the vaccines, or because they're in a population that is at little risk of getting severely ill or dying from COVID-19.
The vaccines were largely developed under former President Donald Trump's administration, which poured funds into development efforts. Trump touted the investment during an interview with Newsmax this week.
"That was a great bet that saved possibly, tens of millions of lives worldwide," he said.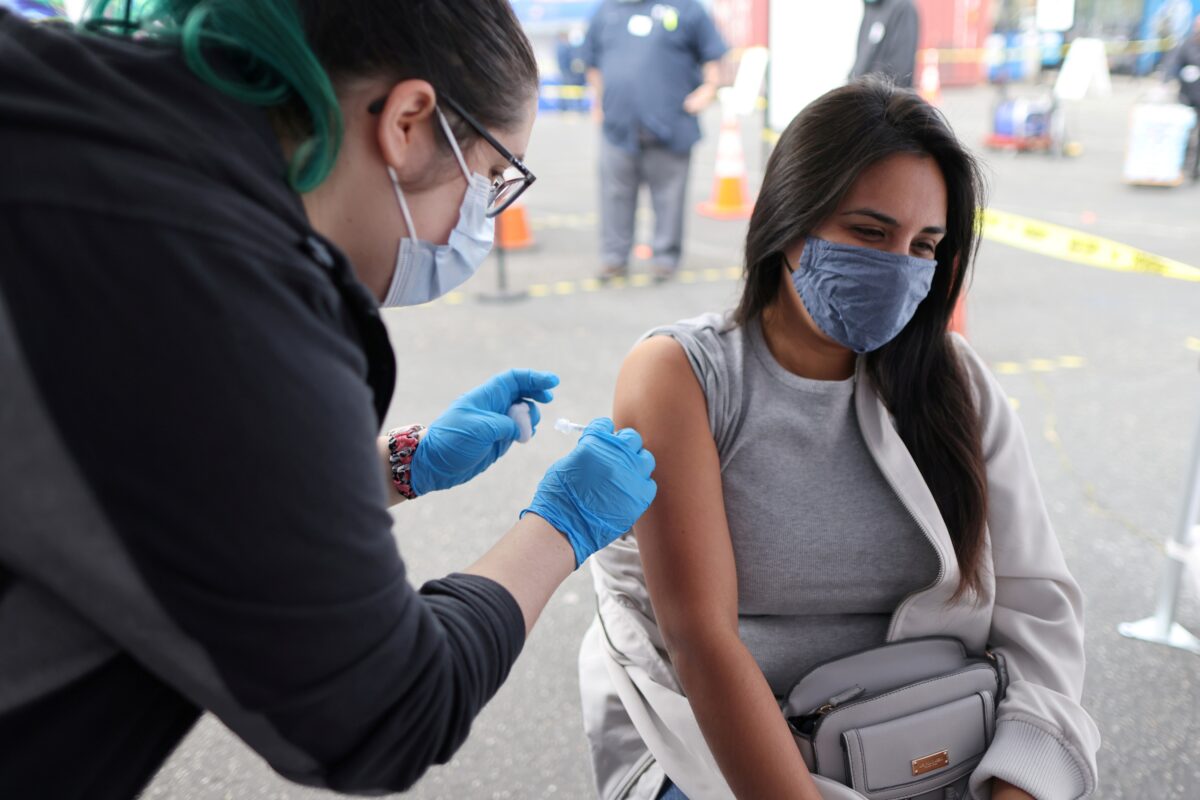 The next front will be a push to vaccinate more children.
U.S. regulators on May 10 expanded the emergency use authorization for Pfizer's vaccine, enabling children between 12 and 15 to get the shot.
"Though most children with COVID-19 have mild or no symptoms, some children can get severely ill and require hospitalization. There have also been rare, tragic cases of children dying from COVID-19 and its effects, including multisystem inflammatory syndrome in children, or MIS-C," Dr. Rochelle Walensky, head of the CDC, said in a statement.
Nearly 93,000 kids between 12 and 15 have since been fully vaccinated.
Pfizer's shot was already authorized for youth as young as 16.
Moderna has said it will ask regulators to authorize its shot for children.