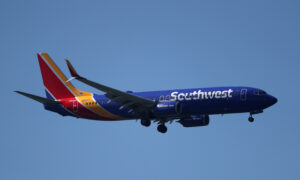 A Southwest Airlines flight attendant allegedly was assaulted by a passenger during a flight and lost several teeth, according to the president of the Southwest Airlines flight attendants' union.
TWU Local 556 President Lyn Montgomery said that over the past weekend, "one of our flight attendants was seriously assaulted, resulting in injuries to the face and a loss of two teeth."
She issued the letter in a bid to highlight misconduct incidents that have occurred on Southwest flights over the past several months.
"I write to you today because we cannot tolerate our beloved cohearts (sic) being abused in such a manner, and because I am asking for your help and leadership in ending these travesties," her letter stated. "One tool to better utilize would be the Southwest Airlines restricted travelers list," it added. "The flying public needs to understand that egregious behavior will result in being banned from flying with Southwest Airlines."
Montgomery did not elaborate on the alleged assault where a flight attendant lost their teeth. Southwest Airlines issued a statement, however, that the attendant was assaulted on a flight from Sacramento, California, to San Diego, California, on Sunday.
"The passenger repeatedly ignored standard inflight instructions and became verbally and physically abusive upon landing," Southwest spokesperson Chris Mainz told news outlets. "Law Enforcement Officials (LEOs) were requested to meet the flight upon arrival, and the passenger was taken into custody."
Mainz said that Southwest doesn't "condone or tolerate verbal or physical abuse" on its flights.
Meanwhile, the Federal Aviation Administration (FAA) said on Monday that it is proposing enhanced fines of $9,000 to $15,000 against five passengers who allegedly interfere with flight attendants.
"The enforcement actions announced today are part of the FAA's zero-tolerance policy for unruly and dangerous behavior by passengers. Since Jan. 1, 2021, the FAA has received approximately 2,500 reports of unruly behavior by passengers, including about 1,900 reports of passengers refusing to comply with the federal facemask mandate," according to the FAA.
And earlier this month, FAA chief Stephen Dickson, warned about a spike in dangerous and unruly behavior among passengers and reiterated a "zero tolerance" policy.