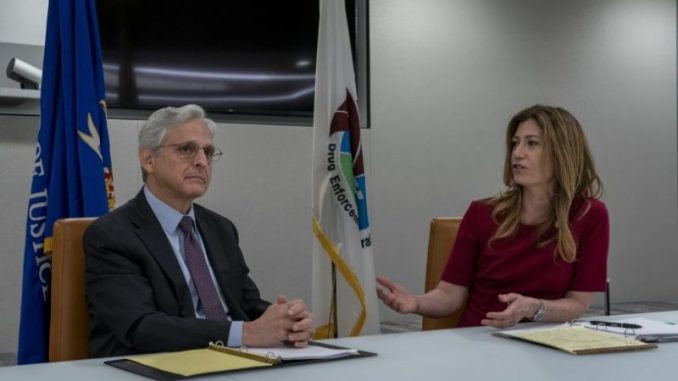 OAN Newsroom
UPDATED 2:32 PM PT – Wednesday, September 28, 2022
The DEA has made major fentanyl seizures across the United States.       
On Tuesday, the agency announced that it has confiscated more than 36 million lethal doses of the drug in multiple states over a five-month period. The drug busts were part of the DEA's 'one pill can kill' initiative which aims to stop the fentanyl crisis in America.
The DEA (United States Drug Enforcement Administration) also investigated 390-cases. All the cases that were investigated were linked to Mexican cartels and to dozens of overdose poisonings. 
Attorney General Merrick Garland has released details on the seizures. He said the DEA is doing all it can to get the deadly drugs off the streets.
"Over the course of these investigations, we seized over 10 million fake pills and 982 of fentanyl powder across all 50 states," Garland said. "That is enough to kill 36 million Americans."
The DEA administrator announced that two Mexican cartels are responsible for the deadly fentanyl pouring into the United States and that agency's top priority is to stop them.
The latest warning from the DEA is rainbow fentanyl. Rainbow fentanyl is essentially rainbow-colored pills. It is believed that rainbow fentanyl was created with the goal to appeal to younger users. The bright colors resemble different types of candy. Drug traffickers have nicknamed the drug sweetarts and skittles. However, the drug has nothing to do with candy.
Many people who are dying in result of fentanyl poisoning are not aware that they have taken the drug.