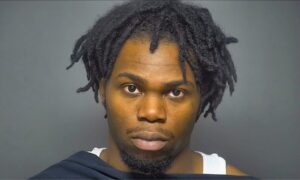 A man suspected of killing four people was captured in South Carolina on Monday after a days-long manhunt that involved local, state, and federal law enforcement, according to authorities.
Tyler Terry was captured near Highway 9 and Highway 99 in Chester County, South Carolina, officials said.
"Tyler Terry is in custody. No shots were fired by any party. Everyone (including Terry) is safe," the Chester County Sheriff's Office tweeted. Other details about his capture were not provided.
Terry was considered armed and dangerous by police, who urged residents to stay indoors, lock their doors, and secure their firearms and valuables. They also called on locals to check barns, crawl spaces, or other locations where the suspect could hide.
Photos posted on Twitter showed Terry, who appeared unkempt and was wearing a torn shirt, handcuffed and surrounded by officers.
He was accused of fatal shootings in Chester and York counties, officials told WSPA, and he was considered a suspect in fatal shootings in St. Louis, Missouri.
"Considering the conditions he was in, he is in relatively good health," said Chester County Sheriff Max Dorsey in regards to his arrest, WSOC reported. "He was provided medical assistance and was hydrated."
TAKE A LOOK: @ChesterSheriff sent us these photos of Tyler Terry in custody. The sheriff told us Terry spoke to him about feeling good healthwise, despite being out for seven days. @WBTV_News pic.twitter.com/Gcao7SQ53c

— Morgan Newell WBTV (@MorganNewellTV) May 24, 2021
Dorsey said Terry didn't resist arrest when he was captured.
"He was still conscious," the sheriff told WSOC. "I believe he was ready to run but he was surrounded and had nowhere to go. He was tired and thirsty. He was all cut up, bug bites, clothes torn. He's exhausted."
Authorities began their search for Terry after he and an alleged accomplice, Adrienne Simpson, fled a traffic stop in a car in Chester County. They crashed, leading to Simpson's arrest, while Terry escaped, said police.
Simpson's husband, Eugene O'Brien Simpson, is believed to have been one of the victims who were killed by Terry. Eugene O'Brien Simpson's body was found last week after he was reported missing earlier in May.
Sheriff's officials said on May 21 that Terry and Simpson were charged in his death.
Meanwhile, the office noted that about 300 law enforcement officers from several different agencies were deployed to conduct "aggressive search operations" in the vicinity of where Terry was captured in Chester County.
Terry will now be taken to the Chester County Detention Center and will be quarantined for 10 to 12 days for COVID-19, officials told WBTV.