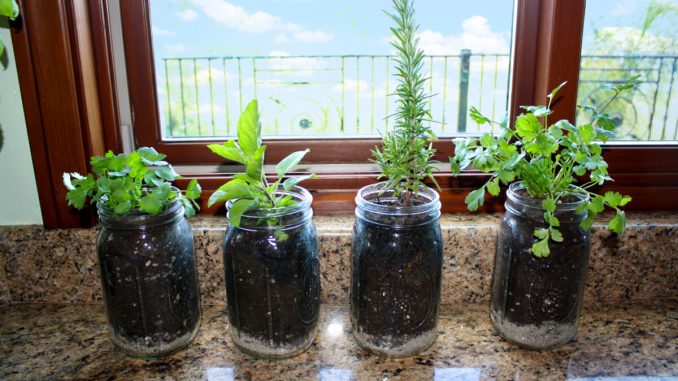 Would you like to have easy access to fresh herbs in your home? Starting a mason jar herb garden is a simple project that brings life, beauty and flavor to your kitchen. There's a reason why chefs talk about the importance of using fresh herbs. Flavor profile and nutrient density are at peak freshness closest to when they are harvested. With indoor herbs of your own, you can better control growing conditions and trim herbs as needed to be included in your next meal.
What you'll need:
1. Mason Jars
2. Pebbles or other small filler
3. Potting Soil
4. Seeds, seedlings or plants
5. Space next to a window
Mason jars are widely available containers that offer a timeless, pastoral appeal. They can be repurposed pickle jars or purchased in bulk at a local store. Unlike other potting containers, the clear glass allows you to see if the soil is dry below the surface and you'll also be able to watch as roots wind their way through the soil.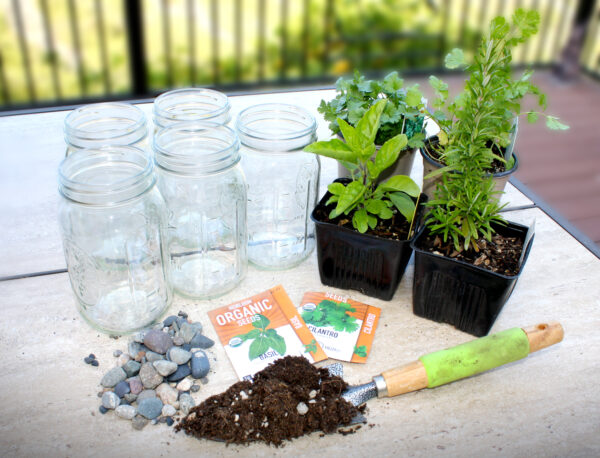 Try to use wide mouth jars so that the plant has the most room to spread out and grow. Wider jars also help if you are transplanting a seedling or more mature plant. The problem of drainage is addressed in a creative way when using glass containers. A base layer is placed beneath the soil to allow runoff away from the roots. The first step is to fill roughly the bottom inch to two inches of the jar with pebbles and sand. Some people choose to get more creative and use smooth glass pieces, marbles or shells.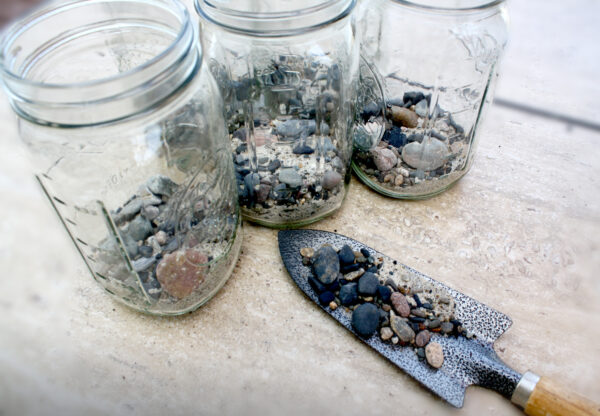 Potting soil is then added on top of the layer of pebbles. High-quality potting soil contains organic material that provides nutrients to your plants. Water and nutrients will drain through the soil feeding the roots as they grow. Use less soil depending on how large of a plant you are transplanting into the jar. If you are growing from seed, you can leave a smaller amount of space after covering the seeds with soil.
Kinds of herbs that work best for mason jar planting
Popular herbs for an interior herb garden include Basil, Parsley, Cilantro, Mint, Chives, Rosemary, Thyme, Marjoram, Sage and Lemongrass. Choose which herbs you'd like to include and decide whether you want to buy a small plant to transplant or if you want to patiently watch the plant grow from a seed.
If you plan to grow from seed, organic or heirloom seeds are best. Not all seeds will grow, so sprinkle a pinch of seeds over the surface of the soil. Plant seeds in the central area of the jar, not close to the glass walls. Loosely cover the seeds with a 1/4 inch of soil and water. Seeds will take a week or two to sprout through the surface. Depending on how many seeds sprout, you can decide to remove one or more of the seedlings.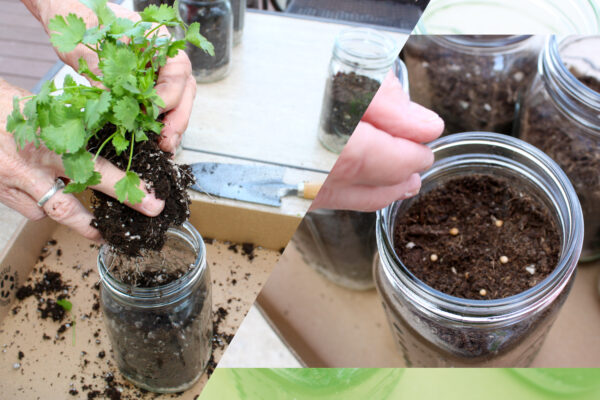 If you choose to transplant a more mature plant, be sure to quickly and gently loosen up the roots, allow excess soil to fall away and burrow the roots into the jar. Firmly surround the base of the plant with soil to anchor it in place. Water the soil around the plant immediately to settle and establish the roots into the soil. Transplanting may be a shock to the plant but will likely be successful if done with care.
Place the jars near a window where they will get enough sunlight daily. Most herbs require full sun or partial sun which translates to 6 or more hours per day. Keep an eye on the soil and water when it starts to look dry or depending on the requirements of the particular herb. You can use a spray bottle to mist the surface of the soil around the plant.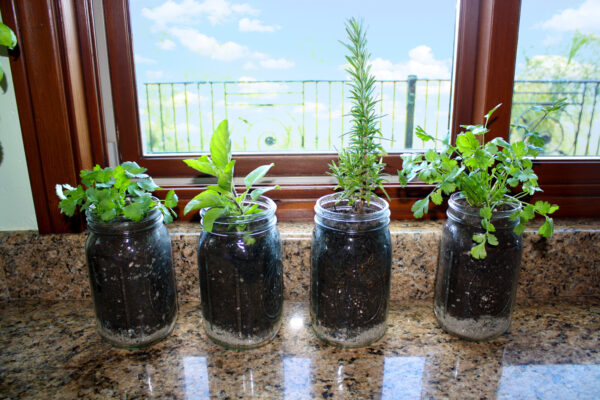 When you want to use an herb, gently trim small amounts at a time close to the stems leaving the majority of the plant to continue growing. Enjoy your new mason jar garden and the fresh, living herbs available in your home!
Jeff Perkin is an Integrative Nutrition Health Coach available at WholySelf.com