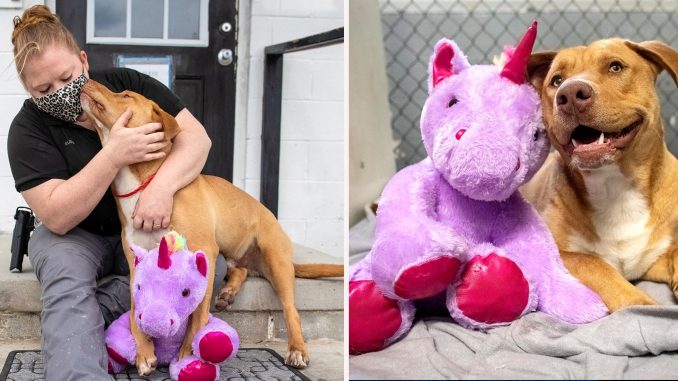 After a North Carolina stray dog attempted to "shoplift" the same stuffed purple unicorn from a local store five times, animal control took pity on his plight.
An officer decided to buy the $10 toy for the desperate dog before taking him into safe custody.
The dog's determined mission to seek love has since stolen hearts across the globe.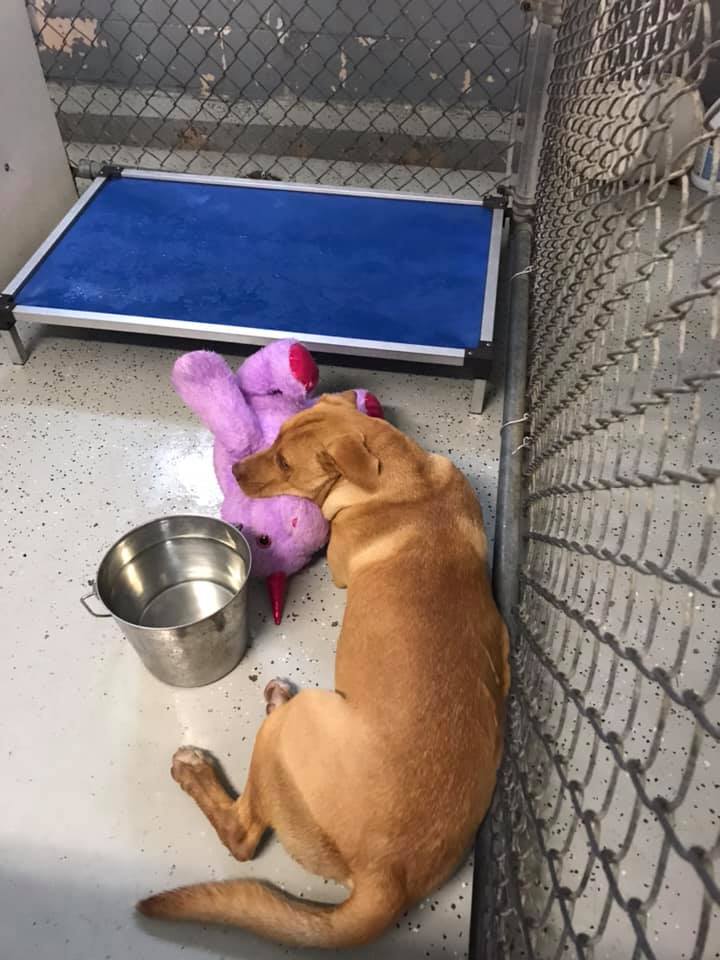 Duplin County's Animal Services Department Head, Joe Newburn, said that the store called on March 21 to report a stray in the parking lot, reports The Charlotte Observer.
The dog had ventured inside, and through the entire store toward his target, five times before they locked the doors.
"He'd walk in, go to that unicorn and try to get it," Newburn told the outlet. "Maybe he had a stuffed animal like that in his original home. I don't know, but he wanted that purple unicorn bad."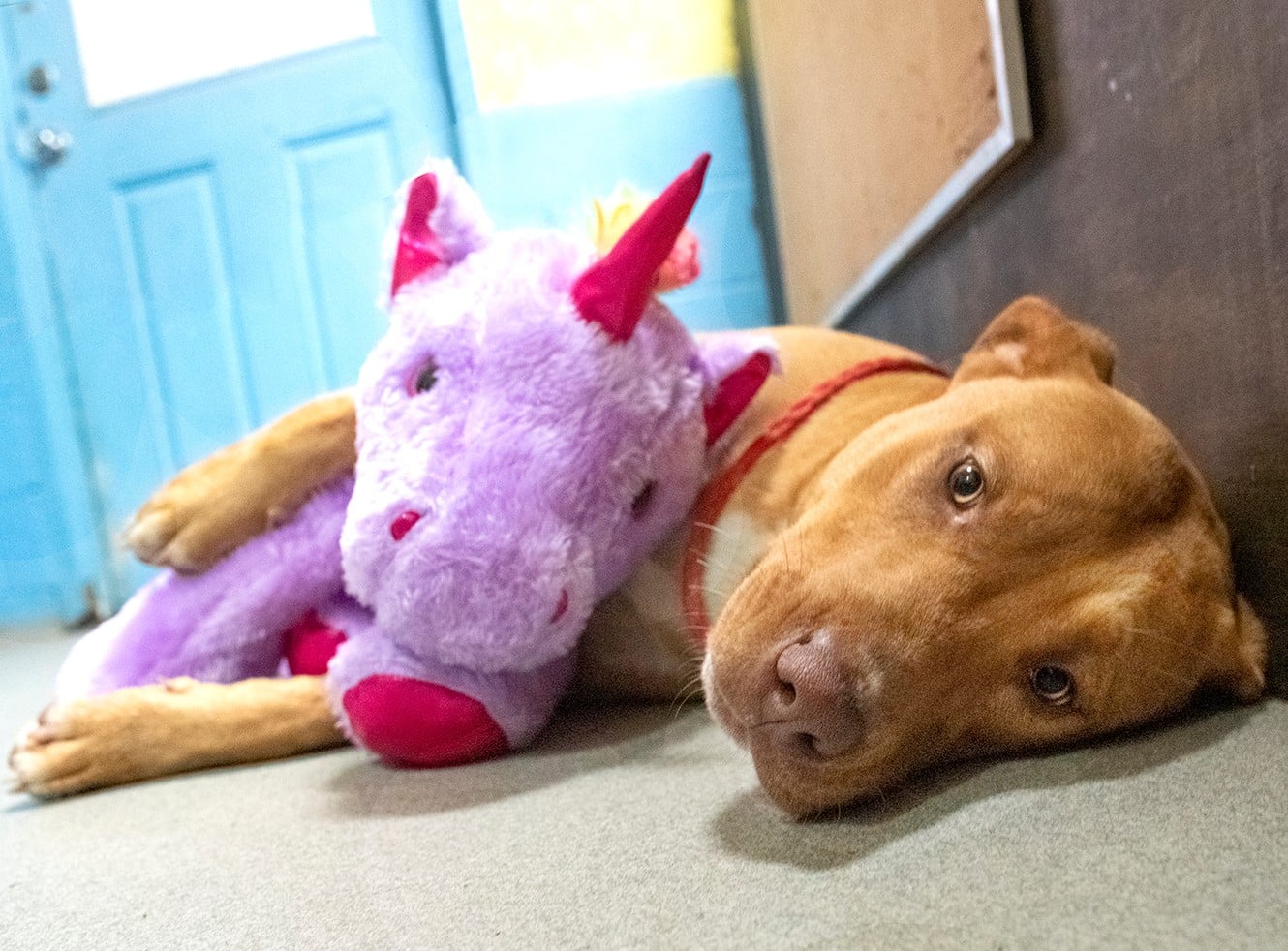 When animal control officer of eight years Samantha Lane arrived at the store, she was touched by the sight of the 1-year-old Labrador-mix waiting patiently in the lot without his coveted toy. Lane went inside and bought it for him and put it in her truck.
The dog jumped straight into Lane's truck in pursuit of the fluffy pink and purple toy before the pair headed back to the county animal shelter in Kenansville.
The shelter shared their newcomer's heartwarming story on Facebook, naming him Sisu after a cartoon dragon from the Disney movie, "Raya and the Last Dragon."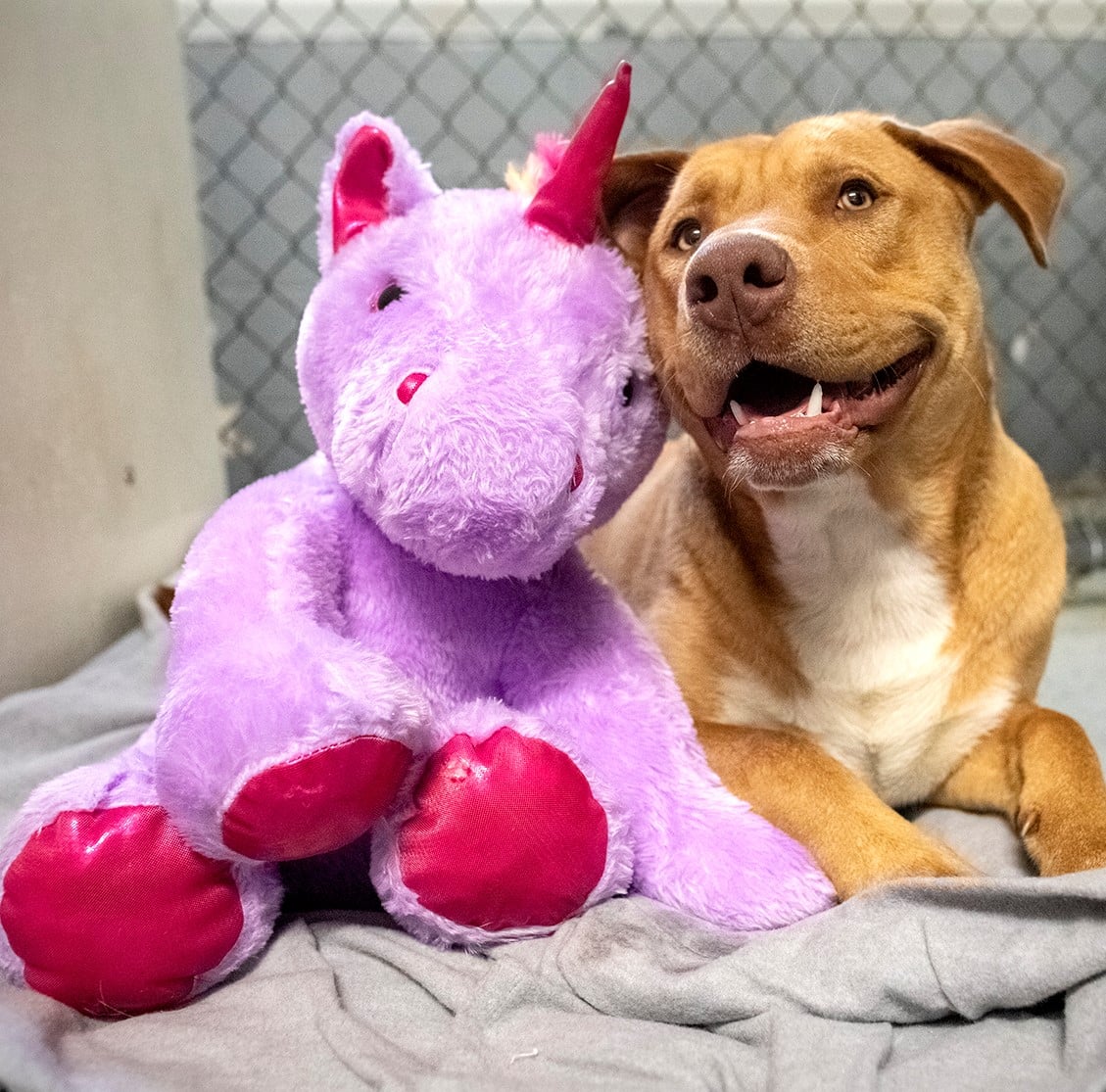 "This is what happens when you break into the Dollar General consistently to steal the purple unicorn … but then get Animal Control called to lock you up for your B&E and larceny," the shelter wrote, sharing a photo of Sisu snuggled up in his kennel beside his purple fluffy friend.
To date, the post has been shared over 22,000 times, amassing many inquiries about adopting the dog along the way.
Sisu needed extra time for training at Lab Rescue LRCP to address territorial behavior with other dogs, reports People. According to LRCP's Sterrie Weaver, such behavior is typical of strays that have had to fend for themselves on the streets.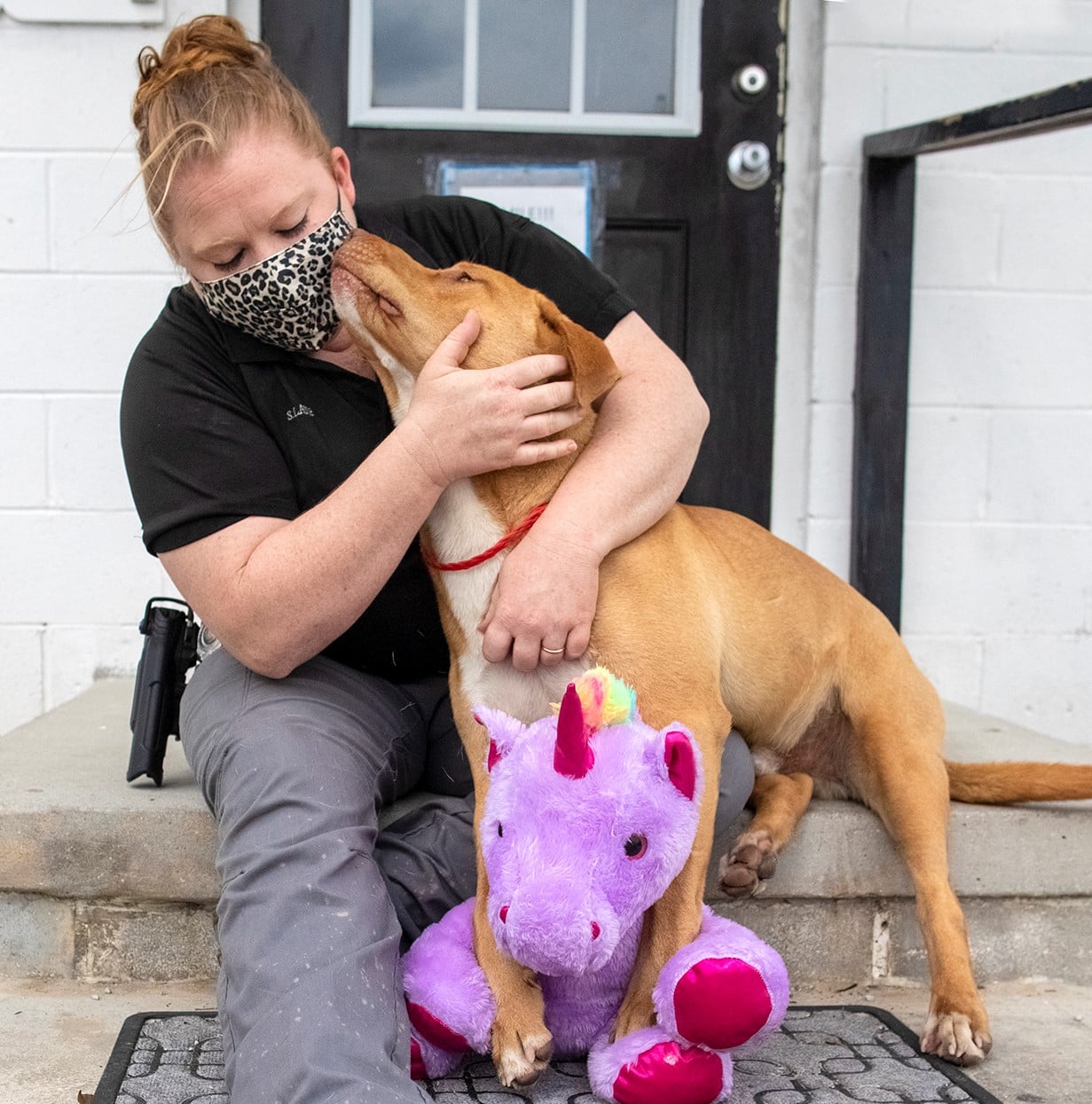 However, before heading to training, Newburn made a pit stop at the store so that staffers could make a fuss of the adorable former shoplifter. The store also made numerous donations of pet food to the shelter, in Sisu's name, reports People.
Sisu is on his way toward a happy ending since the perfect adopter came forward. But he won't be leaving without his fluffy sidekick.
"Every time you put that unicorn with him, when he's laying on it, he looks happy," Newburn told People. "He's at peace with that purple unicorn."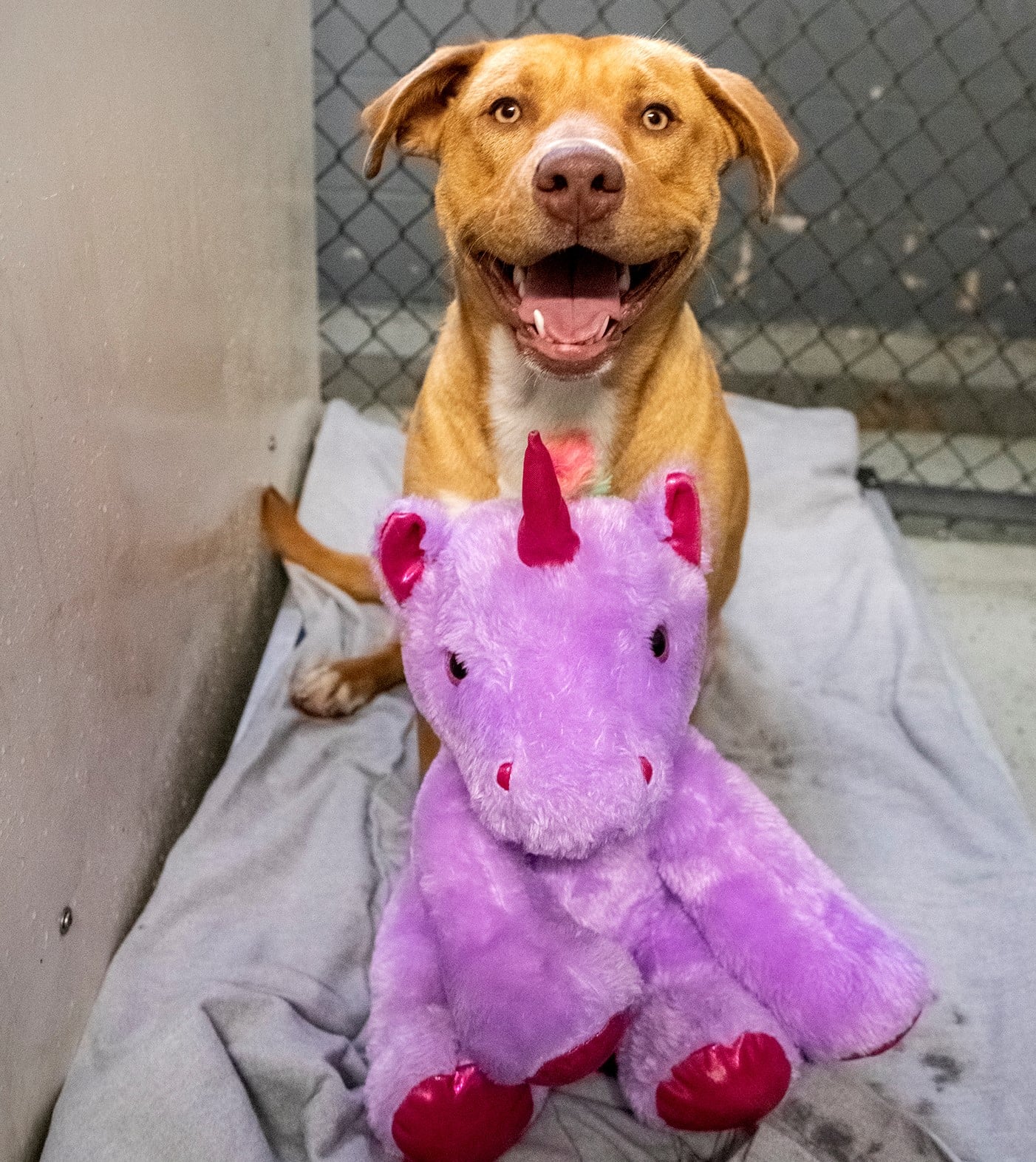 Share your stories with us at emg.inspired@epochtimes.com, and continue to get your daily dose of inspiration by signing up for the Epoch Inspired Newsletter at TheEpochTimes.com/newsletter