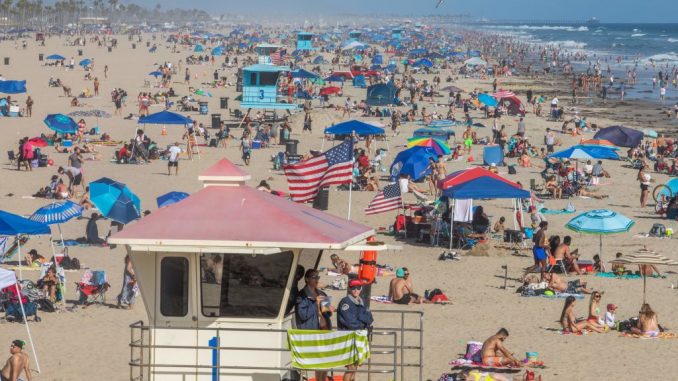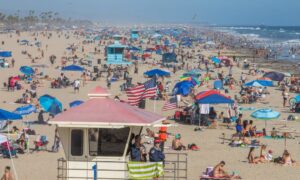 HUNTINGTON BEACH—An overnight curfew was place in May 22 Huntington Beach after hundreds of unruly people, prompted by a viral Tik Tok video about a birthday party on the beach, led police to declare the gathering an unlawful assembly.
The Huntington Beach Police Department said the curfew would remain in effect until 5:30 a.m. May 23 "for all individuals within the downtown area."
Late May 22, officers used less-lethal weapons to disperse a crowd of up to 1,000 or more prompted by a viral video posted May 19 on the Tik Tok page adrian.lopez517 included a caption that read "pop out 'n celebrate my bday."
The crowd, many from outside the Huntington Beach area, began to gather at 6:30 p.m. Saturday around a lifeguard tower for what was dubbed "Adrian's Kickback," which was reportedly scheduled for 7:30 p.m., according to KCAL9.
Footage on social media showed the crowds dancing, taking videos, and launching fireworks. Laughter and screams can be heard in the background.
"It's like don't you remember when you were young?" partygoer  Erica Ramirez told CBSLA. "You just want to go and have fun, have parties, and we kind of lost that this year because of COVID."
Police officers in riot helmets and armed with batons surrounded the crowd and began to break up the gathering after the fireworks were used, various media reported.
At least one person was arrested near the pier, Huntington Beach  Lt. Brian Smith told the Orange County Register. Fire department paramedics were also called to the area on several medical calls, Huntington Beach fire Battalion Chief Jeff Lopez told the paper. Lopez did not provide details on injuries or illnesses.
Social media videos showed objects being thrown at officers, people jumping on top of cars and celebrating on the street in downtown Huntington Beach.
There was a report of a bomb threat but no bomb was found. Meanwhile, a police cruiser had a window shattered, possibly due to fireworks, ABC7 reported.
Huntington Beach police were aware of the potential gathering, and noted on Twitter early May 22 that "As is the case with all large gatherings in #HuntingtonBeach, we have taken steps to prepare for a potential increase in visitors this weekend due to a promoted gathering that has received significant interest on social media."
The department warned that there should be no alcohol or drug use on the beach and no fireworks, and noted it was "taking significant steps to prepare for the potential influx of visitors, including working closely with our regional public safety partners. Toward that end, the HBPD will also be strictly enforcing all applicable laws & ordinances throughout the weekend."
Videos from the scene late Saturday showed throngs of people leaving the beach.