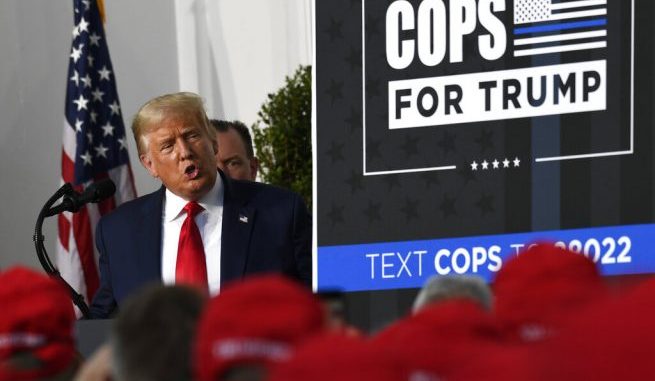 OAN Newsroom
UPDATED 9:30 AM PT – Saturday, August 15, 2020
New York City's largest police union has thrown its support behind President Trump's reelection campaign. The Police Benevolent Association (PBA) made the announcement on Friday at the president's private club in New Jersey.
The PBA President Patrick Lynch highlighted the importance of the endorsement and noted he couldn't remember the last time the union had endorsed anyone for a presidential election.
"Mr. President, today it's an honor for me to stand at this podium and be the voice for 24,000 New York City police officers, proud police officers, that are here today chanting 'USA,' chanting 'Trump for president,'" stated Lynch. "They mean it each and every time they say it."
#BREAKING: Pres. Trump receives 2020 presidential endorsement from the New York City Police Benevolent Association. pic.twitter.com/yTGWwGSmiC

— Bobby Dupree (@bobbydupree) August 14, 2020
During the event, President Trump blasted his political opponent by saying "no one will be safe in Joe Biden's America."
"It's a left-wing war on cops," he said. "If sleepy Joe Biden were to become president, he would immediately pass legislation to gut every single police department in America."
The president went on to promise that he will back the blue.
"So we're going to give you back your stature, give you back your status. I hate to say it, but it's been taken away. We're going to give you back the right to be New York's finest, the finest of all time, the greatest of all time." – Donald Trump, 45th President of the United States
As nationwide protests continue to call for police reform, the president's campaign has tightened its focus on "law and order."
"My agenda is anti-crime and pro-cop all the way," added the president. "That's what it's got to be."
We will bring safety to our cities. We will bring hope to our most distressed communities — and in everything we do, we will stand in solidarity with the men and women of LAW ENFORCEMENT! Thank you to the @NYCPBA for your endorsement. God Bless the #NYPD, and God Bless America! pic.twitter.com/u86rfizIom

— Donald J. Trump (@realDonaldTrump) August 15, 2020
This comes as many cities across the nation are spending millions to try and repair the damages incurred during recent riots. Debt-ridden areas are now feeling the financial burden of protests and riots following the death of George Floyd, among others.
As of this week, looters, injured policemen and property damage have reportedly cost these cities millions. In Minneapolis, total costs in damages could potentially skyrocket to a high of more than $500 million.
Portland, Oregon has seen similar issues. Almost 80 nights of protests and riots have cost the city around $23 million in total damages.