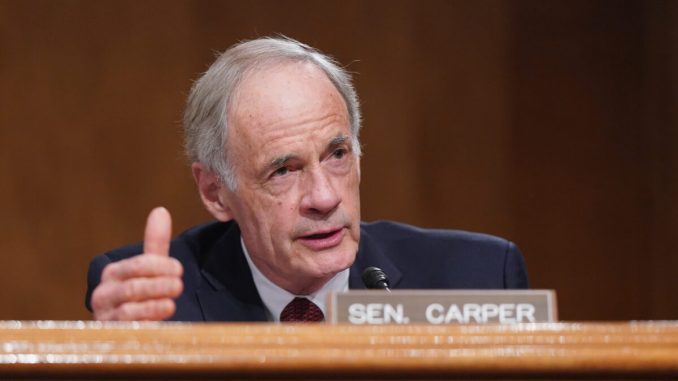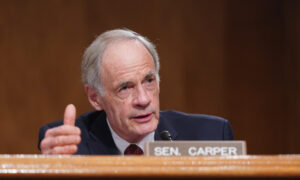 A bipartisan group of senators from the Senate Environment and Public Works Committee (EPW) on Saturday introduced a $303.5 billion surface transportation bill.
The bill, if enacted, would reauthorize Department of Transportation (DOT) funding for highways, roads, and bridges which is due to expire in September. The proposed spending is 34 percent higher than that previously authorized by Congress in 2015.
The senators introduced the bill amid ongoing disagreements between Democrats and Republicans over President Joe Biden's $2.25 trillion infrastructure proposal, the American Jobs Plan. Republicans rejected Biden's proposal on arrival. Acting in unison, Democrats can technically push through Biden's plan without Republican support via the reconciliation process, but that may be hard to do after Sen. Joe Manchin (D-W.Va.) said he's going to look for a bipartisan way to approve Biden's plan.
The bipartisan surface transportation proposal is sure to play a role in the tussle over Biden's plan. It shows that Republicans would come on board to pass a traditional infrastructure package. Biden's plan drew criticism from the GOP because it included massive spending on health care and the environment.
"We must reauthorize the surface transportation bill before its current authorization expires in September: it is a vital foundation for President Biden's American Jobs Plan," Sen. Tom Carper (D-Del.), the chairman of the EPW committee, said in a statement.
"Safe and reliable infrastructure is something every American can get behind," Sen. Shelley Moore Capito (R-W.Va), the committee's ranking member, said in a statement. "From the beginning of this process, I have expressed my desire to work together across the aisle to develop a bipartisan solution to address our nation's infrastructure challenges."
The prior authorization for DOT funding expired last year. Congress extended it temporarily to Sept. 30, 2021.
The Biden administration on Friday cut its infrastructure proposal to $1.7 billion to counter an offer proposed by GOP senators following talks between Biden and congressional leaders at the White House.
"In our view, this is the art of seeking common ground," White House press secretary Jen Psaki told reporters Friday. "This proposal exhibits a willingness to come down in size, giving on some areas that are important to the president … while also staying firm in areas that are most vital to rebuilding our infrastructure and industries of the future."
Psaki said that Transportation Secretary Pete Buttigieg and Commerce Secretary Gina Raimondo presented a counteroffer to Republicans on Friday.
The White House offered to reduce spending on broadband to match what Republicans, led by Moore Capito, had proposed earlier, said Psaki. She noted that some spending on research, development, supply chains, and other provisions was shifted to other legislation.
Republicans have already proposed a $568 billion infrastructure bill as a counteroffer to Biden's proposal.