President Joe Biden said on Friday there has been no shift in his commitment to the security of Israel, insisting "the only answer" was a two-state solution with Palestine.
"There is no shift in my commitment … to the security of Israel. Period. No shift—not at all," Biden told reporters at a White House press conference with South Korea's president. "But I'll tell you what there is a shift in. The shift is … we still need a two-state solution. It is the only answer. The only answer."
Biden also addressed the idea of a rift among Democrats who want his administration to rebuke Israel and end a planned arms deal between the United States and Israel, saying, "I think that my party still supports Israel."
"Let's get something straight here," he added, "Until the region says unequivocally they acknowledge the right of Israel to exist as an independent Jewish state, there will be no peace."
On Friday, about 140 progressive groups called on the Biden administration to condemn Israel.
"We are horrified by Israel's use of disproportionate and deadly force against Palestinians in Gaza which have already resulted in the killings of dozens of Palestinians, including children," the statement reads (pdf).
Sen. Bernie Sanders (I-Vt.) and Reps. Alexandria Ocasio-Cortez (D-N.Y.) and Rashida Tlaib (D-Mich.) also moved to block a planned weapons sale to Israel.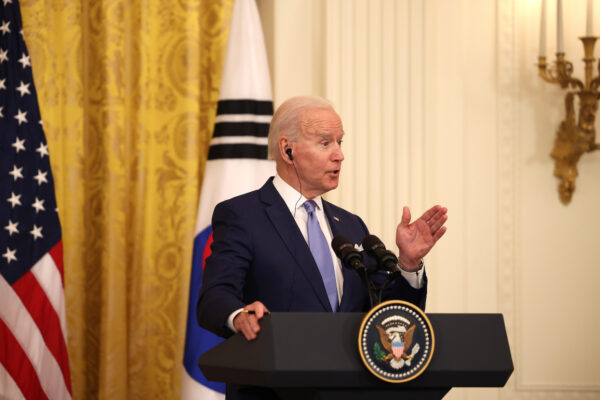 A ceasefire began early on Friday, ending 11 days of conflict that broke out this month after Hamas launched rockets at Israel over a court case to evict several Palestinian families in East Jerusalem. Nearly 250 people have been killed, mostly Palestinians, according to Israeli and Gaza authorities.
Biden said he spoke to Palestinian President Mahmoud Abbas and renewed the United States' commitment to security and economic support for the West Bank.
The United States will replenish Israel's Iron Dome missile defense system, which helped destroy Hamas rockets fired into the Jewish nation, and provide humanitarian relief for the people of Gaza and Gaza reconstruction efforts.
Biden said he told Abbas he would attempt to put a major package together with other nations that share his view in an effort to rebuild Gaza, without providing Hamas with the opportunity to rebuild their weapons systems.
"I also indicated to the Israelis that I thought it was very important that they stop in Jerusalem this inner-communal fighting by extremes on both sides," Biden said. "It has to end. It has to end."
The U.S. president previously commended the efforts for peace while also reiterating his support for Israel's right to defend itself and the Jews and Arabs living within its borders from missile attacks from terrorist groups.
Amid the conflict, Hamas fired more than 4,000 rockets into Israeli civilian areas beginning on May 10. Israel responded with hundreds of airstrikes and several ground strikes to take down the offending and supporting Hamas infrastructure.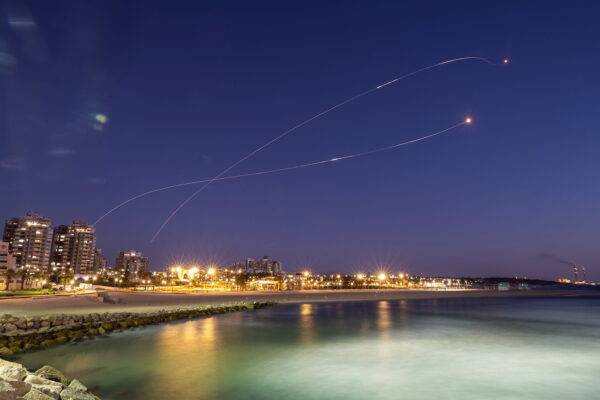 Republican Senator Blames Fighting on Biden
Meanwhile, top GOP senator Ted Cruz (R-Texas) on Wednesday laid the blame for the fighting in the Middle East at the feet of the president, pointing to his administration's dismissal of the peace accords struck between Israel and several countries under the former president and Biden's intention to re-enter the Iran nuclear deal.
Cruz recalled being present when the Abraham Accords were signed at the White House. The agreements were hammered out between the United Arab Emirates and Bahrain and Israel, with help from then-President Donald Trump.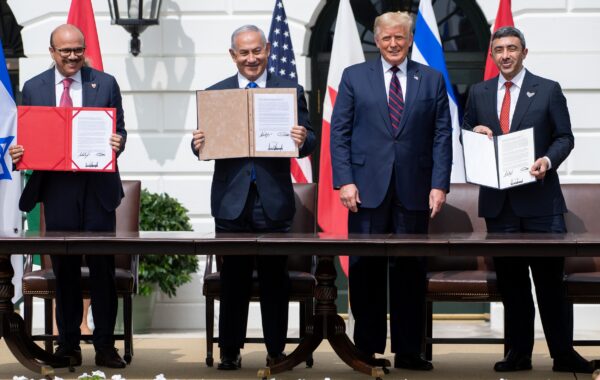 "I spoke with the ambassadors and foreign ministers from the UAE and from Bahrain. Both said virtually the identical thing; both said 'it is now clear to us that America stands unequivocally with Israel. We want to be friends with America. Therefore we will be friends with Israel.' That clarity that strength produces peace," Cruz told a briefing in Washington.
But Biden after entering office undermined Israel by sending hundreds of millions of dollars to the Palestinian Authority, which is closely linked to the terror group Hamas, and stated his goal of re-entering a nuclear agreement with Iran that Trump had withdrawn from.
"As a direct result of those failed decisions, we now have hundreds and hundreds of rockets raining down on innocent men, women, and children in Israel from Hamas, funded by Iran," Cruz said before the ceasefire was negotiated.
Zachary Stieber and Janita Kan contributed to this report.