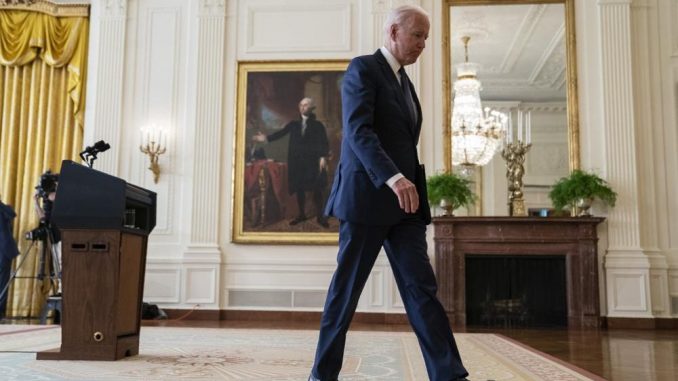 OAN Newsroom
UPDATED 8:00 PM PT – Saturday, August 28, 2021
Joe Biden has been in office less than a year and has already made waves among Republicans and Democrats for his failure in Afghanistan. As thousands have struggled to leave Afghanistan, many have called Biden's decision to withdraw U.S. troops from the country and the Taliban takeover a "failure of foreign policy."
Critics were concerned the repercussions from the fallout caused the U.S. to look weak among global powers such as China, Russia and North Korea. Some warned China could use the Taliban takeover to propel certain advantages.
"I expect they will make Afghanistan under the Taliban part of belt and road," stated Ian Bremmer, founder of Eurasia Group. "In part, they're doing that because it's a propaganda win after the United States has failed on the ground in Kabul."
Joe Biden is incapable of serving as Commander in Chief.

The U.S. and the world are less safe because of him.

— GOP (@GOP) August 28, 2021
As thousands of Afghan refugees have been looking for refuge in the U.S., some have questioned how many would be allowed in as another ongoing problem continued regarding the crisis at the U.S.-Mexico border. Biden had pledged in his first 100 days, he would create a pathway to citizenship for undocumented immigrants.
He previously vowed, "on day one, I'm going to send the legislative Immigration Reform Bill to Congress, to provide a road map to citizenship for 11 million undocumented immigrants."
However, Biden recently told migrants not to come following a surge in migrants at the border this year. Reports estimated over 1.3 million migrants have been captured at the border this year.
Thank you @RepBobGood for cosponsoring my articles of impeachment against Joe Biden related to Afghanistan and the border.

It's time for Congress to hold this administration accountable.

Joe Biden must be impeached. Immediately.

— Rep. Marjorie Taylor Greene (@RepMTG) August 27, 2021
In leaked audio, Biden's Department of Homeland Security Secretary Alejandro Mayorkas said the border crisis was "unstable." Meanwhile, some have been concerned the already open borders, alongside Afghanistan migrants, was becoming a national security crisis.
Monica Crowly, former senior director of Strategic Communications for the National Security Council, said the Biden administration allowing Afghan migrants could spell trouble.
"The problem now is you have an open southern border where we now have DHS officials saying suspected terrorists are coming across every day," she stated. "Now, you've got Afghanistan in the hands of terrorists. The national security implications for this are going to be so horrific and so grave."
Many GOP lawmakers have demanded Biden's resignation, with others calling on Congress to impeach him.