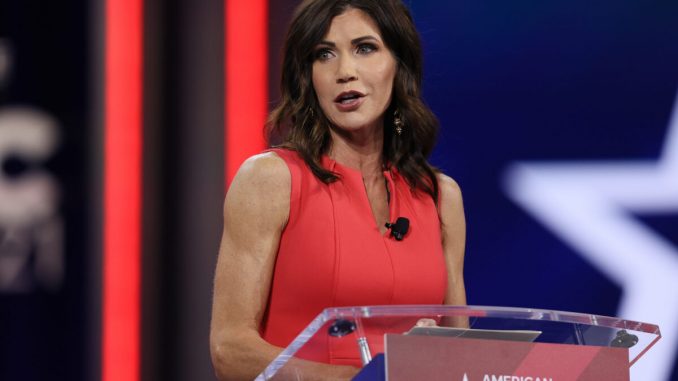 South Dakota Gov. Kristi Noem has voiced stern opposition to teaching the "1619 Project" curriculum in the state's schools.
Noem, a Republican, took to Twitter on Friday to criticize the "1619 Project," saying it "claims that America was founded on racism and slavery, not on an ideal of equality. It seeks to incorrectly re-frame the nation as a story of 'us versus them' rather than 'We the People,'" she wrote.
The "1619 Project," inaugurated with a special issue of The New York Times Magazine, attempts to cast the Atlantic slave trade as the dominant factor in the founding of America instead of ideals such as individual liberty and natural rights. The initiative has been widely panned by historians and political scientists, with some critics calling it a bid to rewrite U.S. history through a left-wing lens.
Noem said that, according to many historians, the "1619 Project's version of American history is full of errors and misstatements that should be avoided, not embraced."
"The 1619 Project relies upon the concept of Critical Race Theory to further divide students based on the color of their skin," Noem wrote. "This is inappropriate and un-American. It has no place in South Dakota, and it certainly has no place in South Dakota classrooms."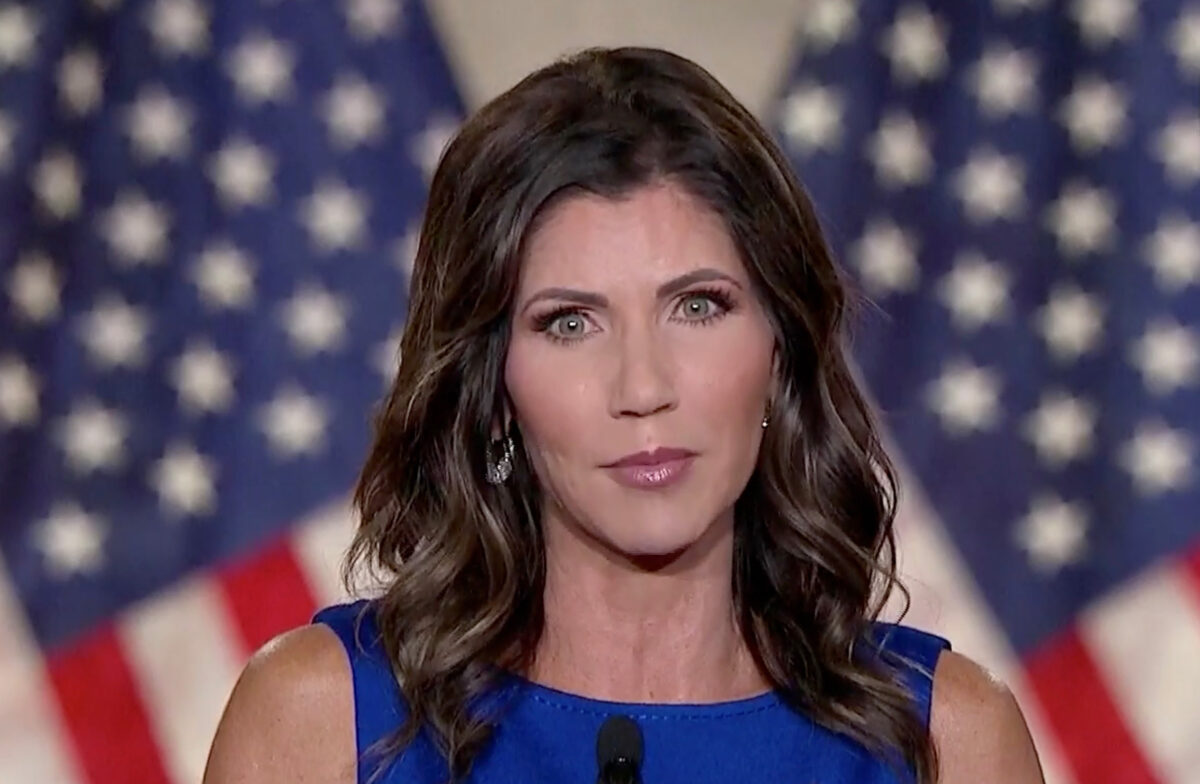 In a recent interview on NTD's "Focus Talk," Yiatin Chu, an Asian mother of two and co-chair of the New York chapter of the Foundation Against Intolerance and Racism (FAIR), described critical race theory as pushing the idea that disparate outcomes, such as academic competency scores, can be reduced to a single variable—race. Advocates of the theory, which she said is increasingly being taught at pre-college levels, push the socialist notion of equality of outcome, and blame differences in outcomes on entrenched privilege while dividing people into "oppressors" and their victims, the "oppressed."
Noem's remarks come as Republicans across the nation are trying to prevent the teaching of critical race theory, and are expressing concern about the Biden administration prioritizing the funding of educational programs that incorporate the ideas of the "1619 Project" into their teaching of U.S. history and civics.
In a proposed new rule (pdf) released April 19, the Education Department outlined new priority criteria for a $5.3 million American History and Civics Education grant, as well as exemplary materials for K-12 educators to use. Specifically, the Education Department cited the "1619 Project," and critical race theorist Ibram X. Kendi's "antiracist idea" as leading examples of the kind of content it wants to use taxpayer dollars to promote in history and civics classrooms across the country.
Thirty-seven Republicans led by Senate Minority Leader Mitch McConnell (R-Ky.) on May 6 penned a letter to Education Secretary Miguel Cardona urging him to remove the 1619 Project from federal grant programs, arguing that it skews American history for divisive political ends.
"Our nation's youth do not need activist indoctrination that fixates solely on past flaws and splits our nation into divided camps. Taxpayer-supported programs should emphasize the shared civic virtues that bring us together, not push radical agendas that tear us apart," McConnell and his GOP colleagues wrote in the letter (pdf).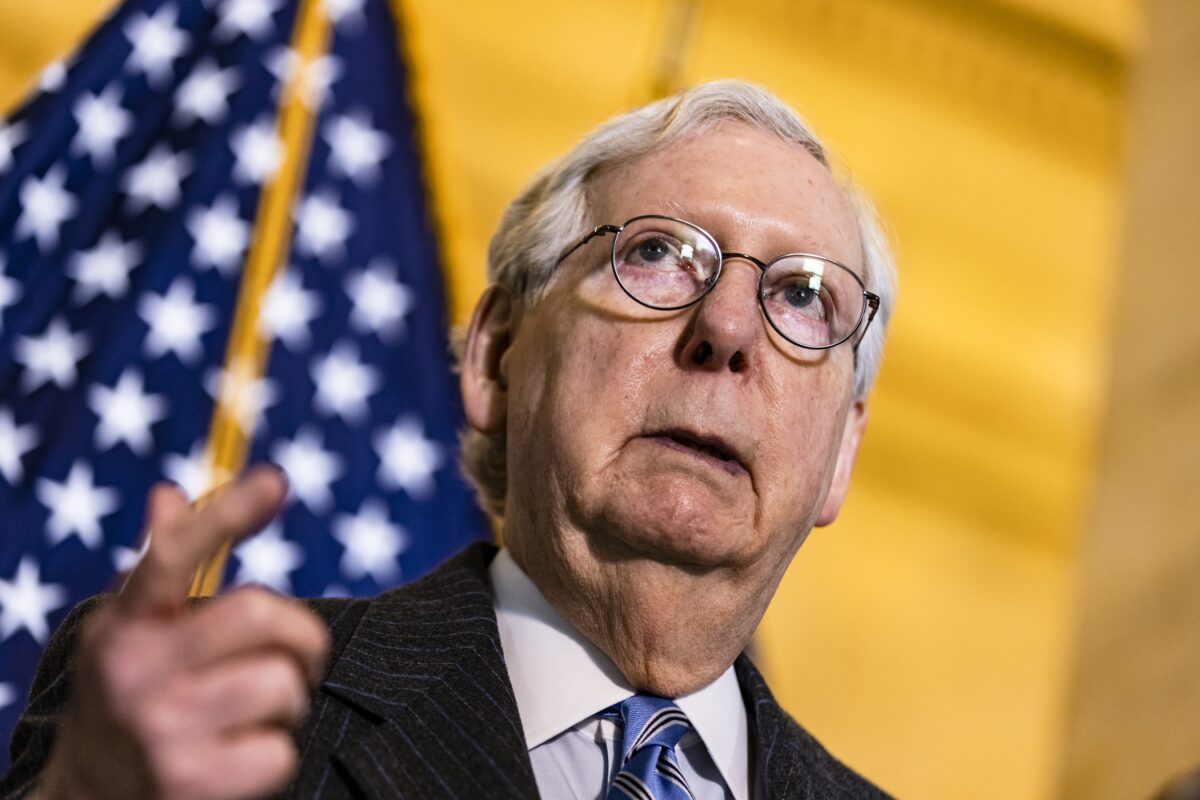 Nikole Hannah-Jones, creator of the 1619 Project, responded to the GOP criticism of the project during an interview with MSNBC on May 3, saying the 1619 curriculum being allowed in schools is a matter of free speech.
"This isn't a project about trying to teach children that our country is evil, but it is a project trying to teach children the truth about what our country was based upon, and it's only in really confronting that truth—slavery was foundational to the United States, we, after the slavery, experienced 100 years of legalized discrimination against black Americans," said Hannah-Jones. "Mitch McConnell and others like him want for our children to get a propagandistic, nationalistic understanding of history that is not about facts, but it is about how they would want to pretend that our country is."
Mary Grabar, author of the upcoming book "Debunking the 1619 Project: Exposing the Plan to Divide America," argued in an interview on Epoch TV's "Crossroads" program that the 1619 Project skews American history for divisive political ends.
Earlier in May, Noem signed a pledge that aims to restore "patriotic education" in response to the push to teach critical race theory in the school curriculum.
"Teaching our children & grandchildren to hate their own country & pitting them against one another on the basis of race or sex is shameful & must be stopped. I'm proud to be the 1st candidate in America to sign 'The 1776 Pledge to Save Our Schools," Noem wrote.
Masooma Haq contributed to this report.