The New South Wales (NSW) government has secured 5000 litres of bromadiolone, one of the world's strongest pesticides against rodents, as part of a $50 million (US$38.8 million) 'mouse trap' package to help farmers combat the ongoing mouse plague.
The chemical, which has been banned from outdoor usage since 2017, is currently awaiting approval from the Australian Pesticides and Veterinary Medicines Authority (APVMA) before it is distributed to farmers.
"Experts will treat growers' grain with bromadiolone completely free of charge to build a mice-free fortress to protect paddocks," Agriculture Minister Adam Marshall said in a statement. "When used in conjunction with in-field zinc phosphide baiting, farmers will have a multi-layered defense against the rodents."
"This is an unprecedented plague with no blueprint on how to handle it, but we're giving our farmers the tools they need to combat these vile vermin. As circumstances evolve we will continue to adapt our best approach to support the agricultural industry," Marshall said.
NSW Farmers welcomed the assistance saying the ongoing fight with the plague has had an "immense toll" on residents' health and well-being.
"Some farmers have outlaid up to $150,000 on baiting already, and we've seen lost grain fodder and damage to farm machinery, not to mention the stress that has accumulated on top of bushfires, drought, and COVID-19," NSW Farmers President James Jackson said.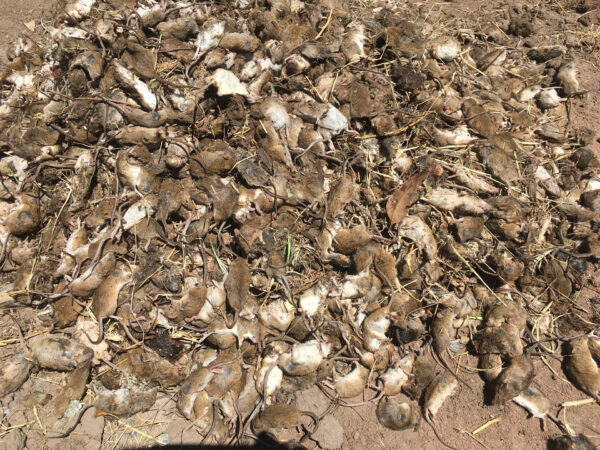 Once-in-a-Decade Plague
Western NSW and Queensland farmers have, for months, been combatting the worst mouse plague in nearly a decade.
NSW Farmers Vice President Xavier Martin said that recently the situation had gotten to the point where mice were resorting to cannibalism due to the sheer number of rodents in his fields.
"They eat each others' heads off, and then by the time they get to the lungs and heart they tend to leave it," Martin told news.com.au. "You'll find the lower half of a mouse left behind—so you still have to clean it up."
Australia's national science agency, CSIRO, said this sort of mouse plague event occurs every 10 years. Recent seasonal conditions in the state have created the ideal situation for mice to thrive.
CSIRO mouse expert Steve Henry said the mild and moist summer, particularly in northern NSW, helped the mice breed throughout the summer into autumn. It then tails off through winter.
"Farming practices have also changed over the years," Henry said. "Water conservation and environmentally sustainable methods, such as minimum or zero tillage, have resulted in a significant increase in both available shelter and alternative food sources for mice in fields."
CSIRO recommended the use of zinc phosphide-coated wheat bait to control the mouse population. APVMA has recently granted emergency use of double-strength zinc phosphide to combat the invasion.
Gerard Dallow from a pest control company, Micropest, told Nine that the numbers were likely to take a hit during the upcoming winter, then once summer returned, they would turn from predators to prey.
"After the mice, the snakes will follow," Dallow said.
Animal Activist Response
However, animal rights activists People for Ethical Treatment of Animals (PETA) has said the mice should not be robbed of the right to food "because of the dangerous notion of human supremacy."
PETA spokesman Aleesha Naxakis urged Australians not to use poison on the animals and suggested that people instead use "humane" traps to catch and release the rodents.
Several ministers have called out the group, with Prime Minister Scott Morrison calling it "pretty dopey" and "insensitive to the plight of farmers."
Agriculture Minister Marshall also condemned the group, calling the PETA comments "utter lunacy."
"If they had their way, our farmers would simply roll over and let these mice, which are in plague proportions in a number of areas of the State, eat everything in the paddocks and their sheds," Marshall told Canberra Times. "These dribblers need to spend some time out in the regions and see what our farmers are dealing with and have dealt with through the very worst nature could throw at them the last few years."
However, Naxakis has defended the comments, saying it was "unfair" that the mice would "suffer horrible deaths" and blamed the governments for not dealing with the issue earlier.
"It's the fault of the government because they really should have taken control of this situation earlier… through humane methods like humane trapping, birth control," Naxakis told 3AW radio. "Their inaction months ago has led to this situation. The situation has gotten so bad that not only farmers are suffering, but mice are suffering."