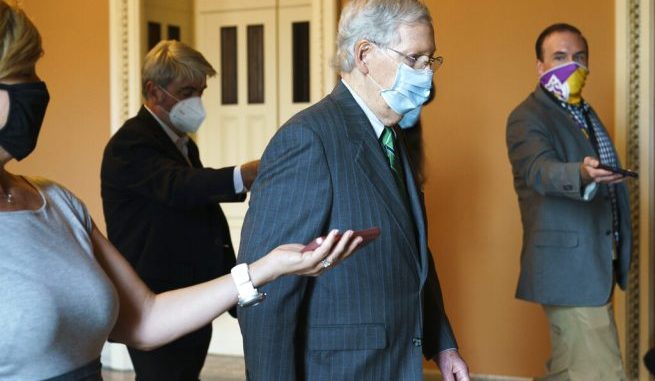 OAN Newsroom
UPDATED 11:33 AM PT – Wednesday, September 9, 2020
Senate Majority Leader Mitch McConnell confirmed the Senate will hold a procedural vote Thursday on a GOP drafted coronavirus relief bill.
While speaking Wednesday, he said the Senate works for the American people and fights for American families. The Kentucky Republican stressed he won't let speaker Nancy Pelosi or Minority Leader Chuck Schumer bury the relief behind closed doors.
The vote Thursday will put the senators stance on the bill on record. It's only a procedural vote and not an actual vote to pass the bill as written.
"Every senator will either say they want to move forward, agree where we can, and make a law to help people and keep arguing over our differences later or say they prefer to do absolutely nothing," stated McConnell.
The bill is not expected to be supported by Democrats and some Republicans have proposed increasing the package by more than 100 pages.
Republicans will not let Speaker Pelosi and Leader Schumer kill COVID relief behind closed doors without putting every Senator on the record.

Tomorrow, we'll vote to protect workers' paychecks, keep kids safe in school, and win the healthcare fight against the virus.

— Leader McConnell (@senatemajldr) September 9, 2020
Meanwhile, Sen. Ted Cruz (R-Texas) doesn't think any form of stimulus bill will pass before now and Election Day. In an interview Wednesday, he said he expects to vote in favor of the more targeted relief bill put forward by McConnell'.
The Texas Republican also noted that he predicts virtually all Republicans to follow his lead, but went on to say he doesn't think there will be hardly any support from the left.
"Pelosi and Schumer have calculated that if they maximize economic pain, that if they have most Americans home and broke and unemployed…that benefits their party and helps Joe Biden," he explained. "I think that's a very cynical approach…we ought to be focusing on recovery."
Sen. Cruz claimed this is a targeted, political act from the Democrats who are trying to push off any relief for Americans until after November 3.