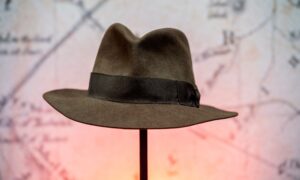 The well-worn hat Harrison Ford wore in the seminal adventure film "Indiana Jones and the Temple of Doom" is up for grabs—for a pretty penny.
Alongside other iconic movie props, the famous archaeologist's brown fedora will be sold to the highest bidder during U.K.-based Prop Store's Entertainment Memorabilia Live Auction this summer.
Starting June 29, movie fans and cinephiles will have a chance to bid on their favorite out-of-this-world movie items for out-of-this-world prices during the virtual event that will be streamed live through July 1.
The famous Indiana Jones chapeau is the auction's highest ticket item, with a valuation between $150,000 and $250,000.
Filmmakers reportedly commissioned the custom hat from iconic London milliner Herbert Johnson a year before the film was shot. "They didn't just walk in and buy a hat off the shelf…they combined attributes from a few different hats to make what became the Indiana Jones Fedora, which is probably now today, one of the most recognizable hats in all movies," Prop Store COO Brandon Alinger said.
Over 1,300 items on the auction block include Hollywood artifacts such as the golf cart driven by Brad Pitt in "Once Upon A Time in Hollywood," a Carrie Fisher-annotated script to "The Empire Strikes Back" and the bladed dueling lightsabers from "Star Wars: Episode III–Revenge of the Sith.
Warner Bros studios donated the glasses worn and the magic wand used by Daniel Radcliffe in "Harry Potter and the Deathly Hallows—Parts 1 & 2," to raise funds for charity. Those wizardly items are expected to fetch upwards to $50,000.
By Karu F. Daniels
New York Daily News
©2021 New York Daily News. Visit nydailynews.com. Distributed by Tribune Content Agency, LLC.