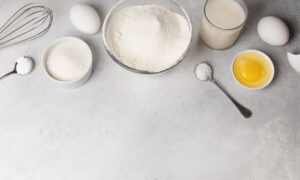 Submitted by Sunny McComber, Omaha, Nebraska
During World War II, all the troop trains in my area were greeted—lovingly—by the ladies of North Platte, Nebraska, at the North Platte Canteen train station with cakes, pies, cookies, doughnuts, coffee, and TLC, as this precious young cargo headed for embarkation points. Grocery shelves were often nearly empty, and the American women had to be creative in the kitchen.
I don't know who came up with this cake, but I was 6 years old during the attack on Pearl Harbor and 10 when Omaha Beach was stormed. In those four years, my mother made a lot of "stuff." This cake was a favorite.
My mother was especially "creative" and called many meals "succotash" because it wasn't determined just what was in it—leftovers, for sure, and the base was almost always elbow spaghetti—now more commonly known as macaroni—or egg noodles. It's funny—but not really—as I look back, I didn't know one single "fat" person during those lean years.
The war years were the foundation of my upbringing, the substance of my still-today love of my country and her faithful and loyal citizens.
War Cake
Using a medium-to-large-size cooking pot or pan, mix together 2 cups of brown sugar, 2 cups of water, and 2 teaspoons of shortening. Add 1/2 to 3/4 of a cup of raisins and 1 teaspoon each of salt, cinnamon, and cloves. Boil for five minutes after the mixture begins to bubble.
After the mixture is cold—and it must be cold—add 3 cups of flour and 1 teaspoon of baking soda that has been dissolved into a couple of teaspoons of hot water. Mix well, then pour into a greased tube pan. Bake for one hour at 350–375 degrees Fahrenheit.
When your cake is finished baking, cool well, then run a spatula or knife around the edge to loosen the cake from the pan. Then tap, gently, the bottom of the cake pan to loosen the cake.
___________________________
Do you have a treasured family recipe that holds a special place in your family history, heritage, or traditions? We would be honored if you would share it with us.
Along with the recipe, tell us its story—who gave it to you, its journey through the generations, and the personal meanings and memories it carries. Is it a special-occasion dish, or an everyday family favorite? Does it connect you to your cultural heritage, or to a certain loved one?
How have you kept the recipe alive, and why is it important to you to do so?
Send your recipe and comments, along with your full name, state, and contact information, to home@epochtimes.com, or mail it to: Home, The Epoch Times, 229 W. 28th St., Floor 7, New York, NY 10001.