Commentary
When it comes to weaponry, there is rarely such a thing as the "big surprise."
In most cases, we know about a new, potentially game-changing weapons system years in advance. Jet fighters were speculated about years before they were actually built. We had rumors and even highly accurate illustrations of stealth aircraft long before they were officially unveiled. And very open research into hypersonic weapons has gone on for decades.
In fact, about the only truly secret weapon over the past hundred years was the atomic bomb, originally shrouded in the super-classified Manhattan Project.
So, while we might not know the fine details, there are few instances of being caught totally unaware by a new piece of military equipment.
Take, for example, China's efforts to build an aircraft carrier. Admiral Liu Huaqing, the so-called father of the modern PLA Navy (PLAN), was so enamored with carriers that he once said that "without an aircraft carrier, I will die with my eyelids open." (He just missed it; he died in January 2011, nine months before China's first carrier was commissioned.)
In any event, China's first aircraft carrier, the Type-001 Liaoning, while a milestone in the history of the PLAN, is hardly much of a weapons system. Most are familiar with the Liaoning's checkered past. Originally laid down in Ukraine in 1985 as the Riga, and later the Varyag, it was intended for the Soviet Navy. Construction on the Varyag was only 70 percent complete when work was halted following the collapse of the Soviet Union. Ukraine, which inherited the ship, stripped it bare and left it exposed to the elements for several years.
The Varyag was eventually sold and delivered to China in 2001, ostensibly to be turned into a Macau casino. It was a rusted shell, without engines, rudder, weapons systems, or electronics. Even its seaworthiness was questioned.
In 2005, however, the Chinese moved the Varyag to a drydock at the Dalian shipyard, where it underwent substantial repairs and reconstruction, along with the installation of new engines, radars, and electrical systems. The rebuilt carrier was commissioned the "Liaoning" in September 2012.
Even so, the 55,000-ton Liaoning is not much of a fighting ship. Unlike U.S. supercarriers, it uses a "ski-jump" instead of a catapult in order to launch aircraft. This is a cheaper, less complicated solution, but it reduces the number of fixed-winged aircraft it can carry, to perhaps no more than a couple dozen fighter jets (in comparison, the new 110,000-ton U.S. Ford-class supercarrier carries around three times as many fighters). It also limits how many aircraft can be operated at any one time.
Additionally, the ski-jump design means that these fighter aircraft often have to sacrifice weapons loads in order to take off. They become, essentially, flying gas cans, greatly limiting their firepower and range of operations.
Basically, the Liaoning is a training ship. It operates at most 24 (and probably fewer) J-15 fixed-wing fighters, a reversed-engineered version of the Russian Su-33. Furthermore, the J-15/Su-33 is considered by some analysts to be a suboptimal solution; even the Russians are replacing the Su-33 as their main carrier-based fighter jet.
And the PLAN will need all the training it can get. Carrier operations are hard. More than any other warship, an aircraft carrier is a "system-of-systems" in and of itself. Carriers typically have several different aircraft types aboard in a "carrier air wing." A U.S. carrier air wing has four separate fighter squadrons, an electronic warfare squadron, a squadron of anti-submarine and search-and-rescue helicopters, an early warning squadron, and a cargo aircraft detachment.
Moreover, the continuous and simultaneous launch and recovery of aircraft requires the careful orchestration of men and machines, all of which requires continuous practice to even begin to approach any degree of proficiency.
It is doubtful that the PLAN will anytime soon attempt to duplicate the complexity of a U.S. aircraft carrier. In fact, it is telling that the PLAN's second carrier, the Type-002 Shandong, while wholly built in China, is little more than a clone of the Liaoning—a bit longer but still featuring the ski-jump design.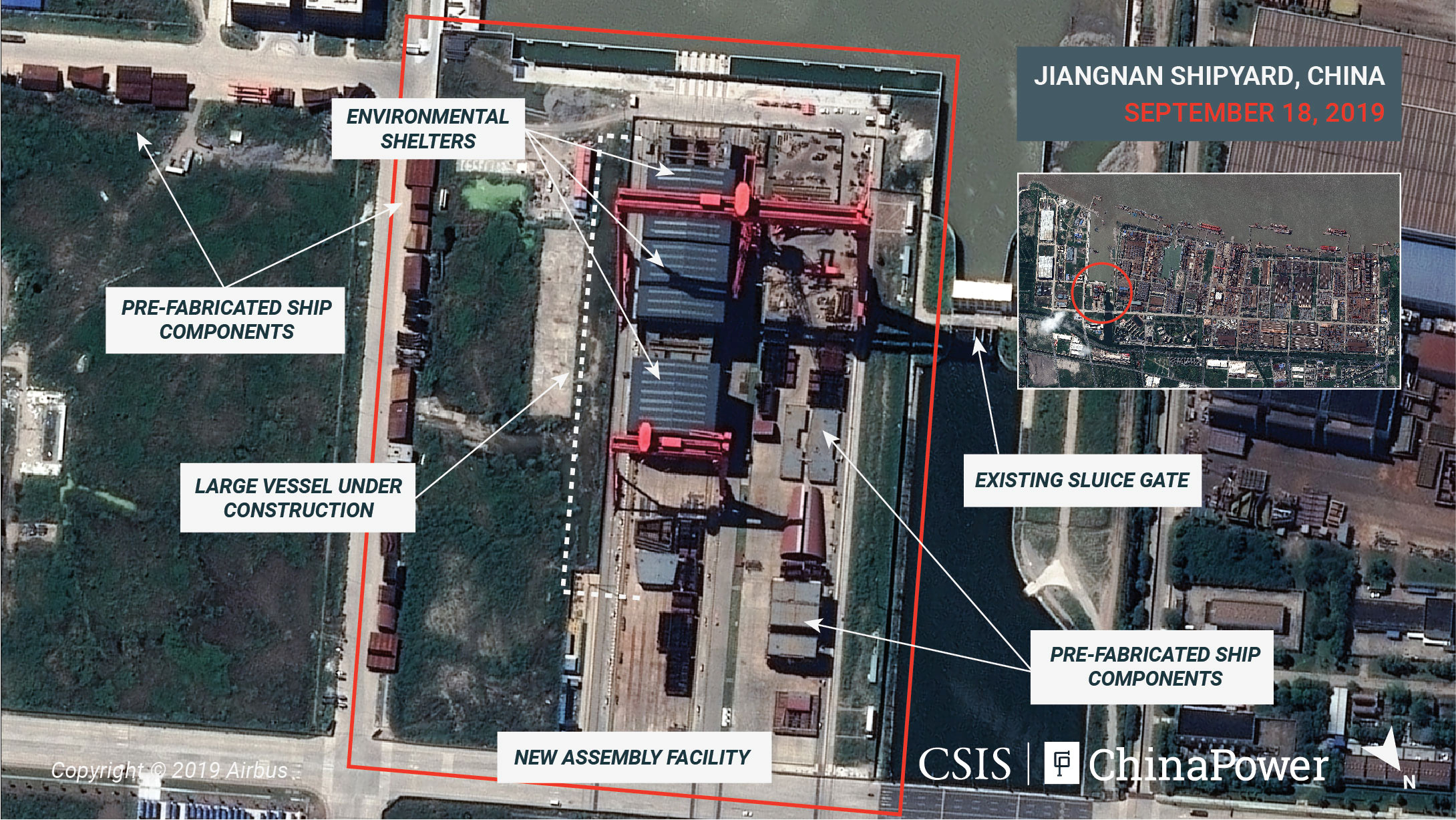 In fact, the Shandong is probably another stop-gap move, built to further familiarize the PLAN with carrier-based operations and to build up shipbuilding expertise when it comes to constructing such large, highly complicated vessels.
Consequently, neither the Liaoning nor the Shandong really affect the military balance in the far western Pacific. Neither can project that much airpower out beyond China's immediate waters, even into the South China Sea. And neither would be much in a head-to-head match with a U.S. supercarrier.
That said, the PLAN is hardly standing still when it comes to building up its carrier force. The Type-003 carrier is already under construction at the Jiangnan shipyards in Shanghai. This 85,000-ton vessel will be China's first true flattop carrier, outfitted with an advanced electromagnetic launch catapult and capable of operating nearly twice as many fighter aircraft as the Liaoning or Shandong. The Type-003 could enter service as early as 2023.
Moreover, China is already planning its first nuclear-powered 100,000-ton supercarrier, the Type-004 CVN. It is speculated that the Type-004 could operate up to 100 fixed-wing and rotary aircraft. This ship could enter service by the end of the decade and will likely also serve as a model for additional CVNs.
In addition, the J-15/Su-33 will likely be replaced over the next decade by an improved carrier-based fighter, probably the J-31 or even a sixth-generation combat aircraft.
It is speculated that the Chinese ultimately want a fleet of at least three to six carriers, depending on whether it wants to engage in sustained operations (which would probably require around four to six carriers) or if it is satisfied with surge ops (requiring three to four carriers). This would probably entail retiring the Liaoning or Shandong (in any event, the Liaoning's hull is already 35 years old), and building an additional two to three Type-004 CVNs.
In any case, however, this will not happen soon, nor should we not expect delays. Carriers take a long time to build, and they are expensive.
Consequently, it will probably take China 20 years or more to become a true carrier-based navy. It is coming, but it should hardly come as a surprise. There is time to prepare.
Richard A. Bitzinger is an independent international security analyst. He was previously a senior fellow with the Military Transformations Program at the S. Rajaratnam School of International Studies (RSIS) in Singapore, and he has held jobs in the U.S. government and at various think tanks. His research focuses on security and defense issues relating to the Asia-Pacific region, including the rise of China as a military power, and military modernization and arms proliferation in the region.
Views expressed in this article are the opinions of the author and do not necessarily reflect the views of The Epoch Times.