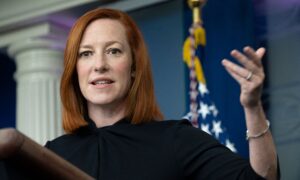 The Biden administration on Friday cut its infrastructure bill proposal to $1.7 billion to counter an offer proposed by GOP senators following talks between President Joe Biden and congressional leaders at the White House.
"In our view, this is the art of seeking common ground," White House press secretary Jen Psaki told reporters Friday. "This proposal exhibits a willingness to come down in size, giving on some areas that are important to the president … while also staying firm in areas that are most vital to rebuilding our infrastructure and industries of the future."
Psaki said that Transportation Secretary Pete Buttigieg and Commerce Secretary Gina Raimondo presented a counteroffer to Republicans on Friday. The original White House proposal was about $2.3 trillion, which was rejected by Republicans in Congress.
The White House offered to reduce spending on broadband to match what Republicans, led by Sen. Shelly Moore-Capito (R-W.Va.), had proposed earlier, said Psaki. She noted that some spending on research, development, supply chains, and other provisions were shifted to other legislation.
Republicans have already proposed a $568 billion infrastructure bill as a counteroffer to Biden's proposal.
"The counteroffer also reflects our view that the Republican offer excludes entirely some proposals that are key to our competitiveness, key to investments in clean energy and in industries of the future, and rebuilding our workforce, including critical investments in our power sector, building and construction, workforce training, veterans hospital construction and the care economy," Psaki said Friday of the GOP's plan.
To pay for the massive infrastructure bill, President Joe Biden suggested hiking the corporate tax rate from 21 percent to 28 percent. Republicans, who passed a sweeping tax-cut bill in 2017, have balked at the idea.
Senate Minority Leader Mitch McConnell (R-Ky.) said that any proposal on infrastructure with a corporate tax increase would be rejected by his caucus.
Psaki said that because the overall cost of the package had come down, the need for "pay-fors" would also be reduced. Biden remained committed to not raising taxes on people making less than $400,000 a year, Psaki added.
Biden, meanwhile, has released a separate $1.8 trillion "American Families Plan," which includes more spending on social welfare programs and would place higher taxes on wealthy individuals.
Should Democrats attempt the pass the bill without Republican support in the 50-50 Senate, they would likely face opposition from more moderate members of their caucus, including Sen. Joe Manchin (D-W.Va.), who praised Republicans' infrastructure proposal last month. Manchin also has told news outlets around the same time that he would back a more targeted approach toward infrastructure.
Reuters contributed to this report.