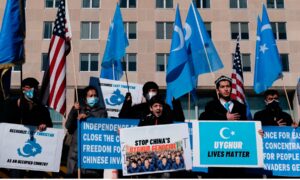 The California Assembly adopted a resolution May 20 denouncing the Chinese government's human rights abuses against Uyghurs, a persecuted religious and ethnic minority.
Assemblyman Chad Mayes (I-Yucca Valley) authored House Resolution 41 (HR 41), which demands "that the People's Republic of China should release the estimated 2,000,000 imprisoned Uyghurs and grant access to foreign press and the United Nations to the detention camps in Xinjiang."
Mayes told the Assembly he had heard about the poor treatment of Uyghurs in the Xinjiang region of China "but did not understand the human impact at the time." Then, two years ago, he met someone whose story brought their struggle from the news into his life.
"The nightmare Uyghur Americans face is one you cannot wake up from. Cut off from their families back home, relatives and neighbors vanish into the darkness of Chinese government-run reeducation camps," he said.
"International reports confirm the horror with documented cases of torture, sanctioned rape, family separation, organ harvesting, cultural eradication, and death. The treatment of these 2 million Uyghurs is a stain on the whole of humanity that we must not be silent about."
Mayes said The Chinese Communist Party's (CCP) response to the international outcry is "shrouded in lies and deceit, with the only truth being smuggled out in shaky cell phone videos or the sporadic texts. But even these glimmers of truth bring many families dread as the realization of what their loved ones are living through manifests."
Assemblyman Marc Levine (D-Marin County) made an impassioned plea to assemblymembers to make their votes count and take a stance against the genocide.
"We must do more. We can't just let this continue," he said.
Levine, a member of the Jewish Caucus, compared the atrocities in China to the Holocaust. He likened China's plan to host the 2022 Winter Olympics to Adolf Hitler's Nazi Germany hosting the 1936 Olympics in Berlin.
Americans have known about China's persecution of Uyghurs for years, he said.
"We have satellite imagery documenting the construction of concentration camps back in 2017. Now, millions of women and men are incarcerated in slave camps," Levine said. "Women have been forcibly sterilized, [and] two presidential administrations have had secretaries of state warn of genocide."
He noted that there's a global demand for black hair, and 13 tons of it had been detained by the U.S. Customs and Border Patrol last July alone—"suspected coming from Uyghur heads, [and] arriving in America in the form of weaves and wigs."
Assemblyman Adrin Nazarian (D-Van Nuys) urged the Assembly to dig deeper and uncover the truth about what's happening in China before it's too late.
"Too many lives would have been lost. We know this through history. We know that when we unravel things … it's already too late," he said.
"So if there's any hope of making a difference, now's the time for us to be that beacon of light that starts making an impact for the rest of the world."
Jesse Gabriel (D-Woodland Hills) strongly backed the resolution. "I read an article recently in the BBC about the systematic forced rape of Uyghur women in custody. It is among the most difficult things that I have ever read in my life," he said.
The resolution cites "reports of mass death and deaths of prominent Uyghur leaders selectively sentenced to death by execution or by long-term imprisonment."
It also states that in 2018, "Xinjiang authorities began building a vast and more permanent infrastructure of detention compounds, including new facilities designed to be cavernous to prevent natural light and surrounded by concrete walls, guard towers, and heavy barbed wire. Researchers have verified over 380 detention sites across Xinjiang that were newly built or significantly expanded since 2017."
Before the resolution was adopted, 61 assemblymembers voted to become co-authors.