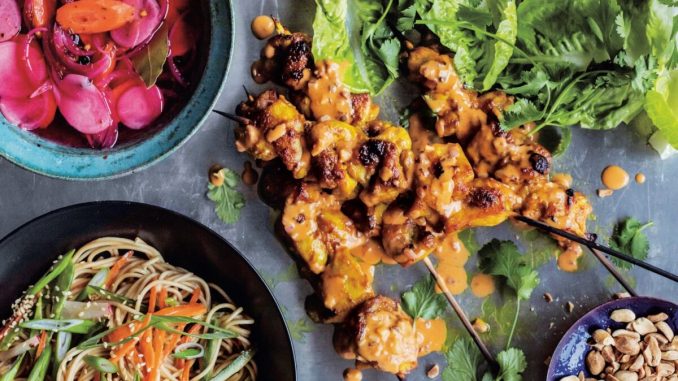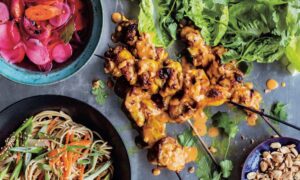 In Cathy Erway's book "Sheet Pan Chicken," you'll find myriad recipes for easy, unusual dishes. The author also advises on best sheet pans, nonstick versus non-nonstick, and how to choose a chicken, and features a chart on how to cook different chicken parts. In the world of Seriously Simple cooking, sheet pan cooking is definitely a technique worth learning.
The chicken in the following recipe is quickly marinated and broiled, and accompanied by a sweet and spicy peanut sauce. There are tons of recipes for satay, but this one includes toasted cumin and coriander seeds, giving it a distinct Indonesian flavor.
This recipe can be prepared in steps. Make the sauce and optional pickles the day before. You can marinate the chicken up to four hours ahead of cooking.
While most satay recipes are grilled, this satay is broiled on a sheet pan, yielding a glazed, slightly burnished exterior. What could be better than wrapping the chicken in crispy lettuce leaves with pickled vegetables, and drizzling with this spicy, slightly hot, slightly sweet peanut sauce? I can't think of much.
Chicken Satay Lettuce Wraps With Peanut Sauce
Serves 4
For the Chicken
1 teaspoon coriander seeds
1/2 teaspoon cumin seeds
1 1/2 pounds boneless, skinless chicken thighs or breasts, cut into 1-inch cubes
1 small garlic clove, grated
1 tablespoon soy sauce
1 teaspoon sugar
1/2 teaspoon salt
1/2 teaspoon ground turmeric
2 tablespoons vegetable oil or coconut oil
For the Peanut Sauce
1/4 cup finely chopped onion or shallots
1 garlic clove, minced
1/4 cup peanut butter
1/4 cup water
1 tablespoon fresh lime juice
1 teaspoon fish sauce
1 tablespoon sambal oelek (Indonesian chile paste) or sriracha (optional)
1 tablespoon sugar
1/4 teaspoon salt
1/4 cup roasted peanuts, chopped (optional)
To Finish
1 small head Bibb, Boston, or Little Gem lettuce, or 1/2 head iceberg lettuce, leaves separated
Quick-pickled vegetables (see following recipe, or use your favorite recipe)
1/4 cup fresh cilantro leaves (optional)
Preheat the broiler.
Toast the coriander and cumin seeds in a small dry pan over high heat, shaking frequently, for 1 to 2 minutes, until fragrant. Immediately transfer them to a spice grinder and pulse for a few seconds, until the spices are well ground.
Combine the chicken, ground coriander and cumin, garlic, soy sauce, sugar, salt, turmeric, and vegetable oil in a large bowl and mix thoroughly. Thread the chicken onto four bamboo or metal skewers and place them in a single layer on a sheet pan. Broil for about 5 minutes, until the edges are crisp and browning, then carefully flip the skewers using tongs and broil for another 5 minutes, until browned and crispy.
Meanwhile, make the sauce: Combine the onion, garlic, peanut butter, water, lime juice, fish sauce, sambal, sugar, salt, and peanuts (if using) in a medium bowl and mix well.
Serve the satay skewers with the lettuce, pickled veggies, cilantro (if using), and peanut sauce on the side, so diners can make their own wraps.
Tasty Tips
If you don't have a spice grinder, use ground coriander and cumin; you can warm them for a minute in a nonstick pan to bring out the flavor.
This is often served with pickled vegetables. (Recipe follows.)
If you want an accompaniment, you can add sesame noodles, warm flatbread, or steamed rice.
To drink? A California riesling, chardonnay, or light pinot noir.
Quick Pickled Vegetables
Makes 1 jar
1 carrot, peeled and sliced on the diagonal into 1/8-inch-thick coins
1 medium red onion, thinly sliced
4 radishes, thinly sliced
1 cup rice wine vinegar
1/2 cup sugar
1 tablespoon kosher salt
1 tablespoon black peppercorns
1 bay leaf
1 tablespoon mustard seeds
1/2 cup water
Place vegetables in a heatproof resealable container or jar.
Combine vinegar, sugar, salt, peppercorns, bay leaf, mustard seeds, and 1/2 cup water in a saucepan. Bring to a boil over high heat, stirring occasionally. Immediately pour over vegetables.
Let cool to room temperature, then cover and refrigerate at least 2 hours before serving. Refrigerate any leftover pickled vegetables.
Diane Rossen Worthington is an authority on new American cooking. She is the author of 18 cookbooks, including "Seriously Simple Parties," and a James Beard Award-winning radio show host. You can contact her at SeriouslySimple.com. Copyright 2021 Diane Rossen Worthington. Distributed by Tribune Content Agency, LLC.