Ford will pause or reduce production of vehicles including the F-150 pickup and Bronco Sport SUV at eight North American plants in June due to the semiconductor chip shortage that is putting a squeeze on carmakers.
Following reports of an internal Ford memo noting the chip-driven production rollbacks or stoppages, the company confirmed the news in a statement to media outlets.
"The global semiconductor shortage continues to affect global automakers as well as other industries," said Kelli Felker, Ford global manufacturing and labor communications manager, in a Wednesday statement to Detroit Free Press.
The affected production facilities are as follows: the Chicago Assembly Plant, the Flat Rock Assembly Plant in Michigan, the truck lines at Dearborn Truck Plant and Kansas City Assembly Plant—which build Ford's cash cow, the F-150 pickup, the Hermosillo Assembly Plant in Mexico, the Oakville Assembly Complex in Canada, and the Ohio Assembly Plant in Avon Lake.
The production downtimes for the plants vary, but are generally scheduled for several weeks in June.
"Our teams continue making the most of our available semiconductor allocation and will continue finding unique solutions to provide as many high-quality vehicles as possible to our dealers and customers," Felker told Detroit News.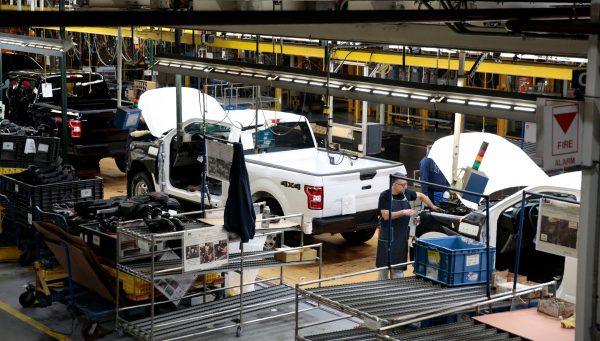 Ford's announcement came a day after President Joe Biden visited a Ford plant in Dearborn, Michigan, where he pitched his American Jobs Plan, called for investment in electric vehicle production, and voiced support for more domestic chip manufacturing.
"We're going to boost our manufacturing capacity," Biden said. "That's why the American Jobs Plan invests in new and retooled union facilities: grants to kickstart new battery and parts production, loans and tax credits to boost manufacturing of these clean vehicles."
"It also makes the largest investment in research and development in generations. That's going to help innovate, manufacture, and build the supply chains for batteries and semi-conductors and the small computer chips that make electric trucks and cars go," he said.
"Never again should we be in the situation we face today with semiconductor shortages," he added.
The chip crunch is impacting the auto industry more broadly, with consulting firm AlixPartners estimating last week that the shortage will cost automakers $110 billion in lost revenues this year, up from a prior estimate of $61 billion.
The chip shortage is pushing companies to adjust their supply chains and develop direct relationships with semiconductor makers, according to Mark Wakefield, co-leader of AlixPartners' global automotive practice.
Past supply and price disruptions prompted automakers to enter into direct supply agreements with producers of certain raw materials, such as palladium and platinum, which are used in exhaust scrubbing systems. The auto industry, which is heavily reliant on just-in-time production arrangements, has tended to be reluctant to enter into long-term supply agreements due to the associated financial liability. But the chip shortage is adding to pressure to make the switch, with Wakefield saying that now, "the risk is real. It's not a potential" risk of losing production due to chip shortages.
"These things are shocked into existence," he said of major supply chain adjustments.
Ford's announcement of production rollbacks comes weeks after the company said it expects problems from the chip shortage to reduce its earnings by about $2.5 billion in 2021, while Ford CEO Jim Farley warned investors several weeks ago that the company expected to lose about 50 percent of its planned second-quarter production.