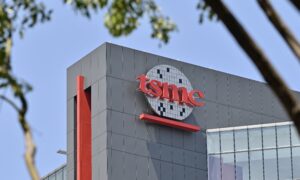 WASHINGTON—The global computer chip shortage has boosted the economic and strategic importance of Taiwan, which is home to some of the world's largest and most advanced chip foundries. With the increased Chinese aggression against Taiwan in recent months, the island's independence and democracy have never been so important to Western countries.
Taiwan is now the "most dangerous place on earth," according to The Economist magazine, due to concerns that Chinese communist regime may soon launch a military invasion of the island.
Besides political and national security implications, such a scenario would inflict economic pain on many countries, including the United States. It would cause severe supply chain shocks across multiple industries that heavily rely on Taiwanese chips.
People don't really grasp the implications of Chinese control over Taiwan, according to Rupert Hammond-Chambers, president of the U.S.-Taiwan Business Council.
Speaking at a virtual panel hosted by the Global Taiwan Institute on May 19, he said an invasion would take Taiwan's chip production almost immediately offline, causing dramatic consequences for global supply chains.
Semiconductor chips form the backbone of many sectors in the rapidly evolving digital economy, from automotive, to smartphones, to advanced weapon systems. Taiwan plays a big role in this space, accounting for 78 percent of the global foundry market.
The island is home to Taiwan Semiconductor Manufacturing Company (TSMC), the most critical firm in the industry due to its leadership in advanced chips.
"Taiwan accounts for 92 percent of semiconductor production at the most sophisticated sub-7 nanometer process levels," Stephen Ezell, vice president at the Information Technology and Innovation Foundation, a technology think tank, said during the panel.
"Taiwan's prowess in semiconductors is thanks largely to its pioneering the semiconductor foundry model, meaning it conducts outsource contract manufacturing for fabulous design companies like Qualcomm, or Nvidia, or Apple," Ezell said.
Apple alone accounts for roughly 25 percent of TSMC's revenues, he noted.
"United States needs to care about Taiwan greatly because America's wellbeing depends greatly on Taiwan's wellbeing."
The pandemic has spiked demand for consumer electronics, leading to the shortage of semiconductor chips this year. Global automakers have been hit especially hard from the supply shock. Companies like General Motors and Ford had to temporarily shutter some of their plants.
The harm that recent chip shortage inflicted on automakers prompted many governments to take action.
On Feb. 17, the White House sent a letter to the Taiwanese government, asking its help to resolve the shortage and "ensure a level-playing field for American companies seeking deliveries of available supplies."
President Joe Biden also signed an executive order on Feb. 24 to help create more resilient supply chains in semiconductor chips and other critical goods.
He has directed federal agencies to conduct a 100-day comprehensive review to identify "choke points" in the supply chains. Following the review, the administration officials said the White House could explore various policy options, including boosting domestic production and working with allies to develop a coordinated response to supply disruptions.
US Deepens Ties With Taiwan
Washington has long been cautious about the Taiwan issue for fear of provoking China, which claims sovereignty over the island.
The United States doesn't have a formal diplomatic relationship with Taiwan, but maintains unofficial ties with the self-ruled island under the 1979 Taiwan Relations Act. The act authorizes the United States to provide the island with military equipment for its self-defense, and set up a nonprofit corporation called the American Institute in Taiwan, which is the de facto U.S. embassy on the island.
The course of U.S.–Taiwan relations dramatically changed under the Trump administration, particularly with high level visits to Taipei by senior U.S. officials last year.
And just before leaving the office in January, former Secretary of State Mike Pompeo lifted restrictions on contact with Taiwanese officials, marking the latest move to deepen ties with the democratic island.
So far, the Biden administration is "doing a really good job of consolidating what they inherited" from the Trump administration, according to Hammond-Chambers.
He said, President Obama's tenure "was the low point in U.S.-China relations over the last 20 years," calling it a "grim time for U.S. national interest."
Biden has recognized China's growing threat to "dominate the semiconductor supply chain" and called for a significant investment to increase domestic chip manufacturing.
While Chinese companies still lag on the design and manufacturing of semiconductors, Beijing is making a huge push to boost the local chip industry. As part of its strategy to grow its domestic production and move towards self-sufficiency, Beijing has increased its cyber attacks against Taiwan in recent years.
"Since the United States announced restrictions on Huawei, the Taiwanese semiconductor industry has reported increased cyber attacks from China," Alexa Lee, senior manager at the Information Technology Industry Council said at the panel.
Besides cyber attacks, Taiwan also faces increased talent competition from China.
Chinese companies have ramped up campaigns to attract Taiwanese engineers, Lee said, by offering huge salaries and benefits.
As part of its so-called "dual circulation strategy," Beijing made it clear that it wanted to tighten the dependence of international industrial chains on China, while decreasing the country's reliance on global supply chains, according to Adam Segal, an expert on Chinese domestic and foreign policy at the Council on Foreign Relations.
Speaking at the panel, Segal said the Biden administration, compared to the previous administration, has been less explicit about how it would slow China down in semiconductors.
Biden's team recognizes the importance of boosting domestic manufacturing to create secure and resilient supply chains but moving supplier ecosystems is "extremely complicated," he said.
"The average large company has about 5,000 suppliers across different tiers. A company like Apple has 638 suppliers in tier one and close to 7,500 suppliers in tier two," he said, referring to the direct and indirect vendors of the iPhone maker.
Hence, there should be a "very strong diplomatic component" to the U.S. supply chain strategy, he noted, which involves working with allies including Taiwan to ensure the security and independence of their supply networks.
Senate Majority Leader Chuck Schumer  (D-N.Y.) on May 18 unveiled a revised bipartisan bill that provides a $52 billion fund to boost U.S. chip manufacturing and research over five years.
"The Chinese Communist Party is aggressively investing over $150 billion in semiconductor manufacturing so they can control this key technology," a bill summary stated.
According to Ezell, this type of legislation is critical to provide a level playing field for U.S. manufacturers.
"If we're going to compete in the future, it needs to be supported on a bipartisan basis across Congress and the administration," he said.