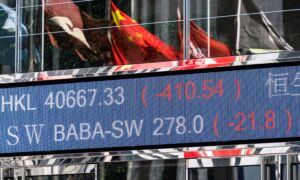 Despite the surge in online shopping driven by pandemic lockdowns, China's major online retailers' shares—that had soared to record highs in February—fell sharply amid the Chinese regime's stricter control measures.
Shares of e-commerce company Pinduoduo are now trading down 41.6 percent from their peak in mid-February, closing at $118.33 on May 17, which means the market capitalization vanished by $100.8 billion.
On May 10, the Shanghai Consumer Council summoned Pinduoduo representatives to a meeting and addressed problems like product quality and after-sales services. Its Nasdaq-listed shares sank over 9 percent a day later.
Other e-commerce platforms, JD.com and Alibaba Group Holding, also saw investors soured by their poor growth prospects due to a widened crackdown on the country's internet giants. Nasdaq-listed shares of JD.com have fallen over 36 percent since it hit its all-time high on Feb. 17. Its rival, Alibaba's NYSE-listed shares tanked about 32 percent since last November, evaporating by over $268.9 billion.
Alibaba's shares have been on the downtrend since Jack Ma, the founder and former CEO, publicly criticized regulators. On May 13, Alibaba reported (pdf) the first quarterly loss of $1,170 million since it went public in 2014, after the regime slapped it with a record $2.8 billion antitrust fine on April 10.
This salvo of events marks the beginning of the Chinese regime's campaign to curb the growing influence of homegrown internet giants, such as Alibaba, which serves over 8 million active users on its e-commerce platform.
China's internet platforms engaged in financial services, tutoring, food delivery, and retail have all come under scrutiny recently, with many fined, required to rectify their practices, and even required to restructure.
Shares in Meituan, the country's largest on-demand food delivery platform, closed at a 7-month low on May 14, as public scrutiny mounts.
In a meeting on May 14, eight of China's regulators ordered Meituan Chuxing (a unit of Meituan), Alibaba's map service, AMAP, and another eight on-demand transport leaders to halt practices ranging from arbitrary price hikes to unfair treatment of drivers.
Days before on May 10, representatives of Meituan were summoned to a meeting by Shanghai regulators. Shortly thereafter, its Hong Kong-listed shares tumbled by as much as 9.8 percent the next day.
On April 29, Meituan and other tech firms that offer financial services were told to obtain licenses and to restructure their financial wings as holding companies. Thirty-four tech giants, including Meituan and JD.com, had also been summoned to a meeting on April 13 by Chinese regulators, which warned them to "heed lessons from Alibaba's case."