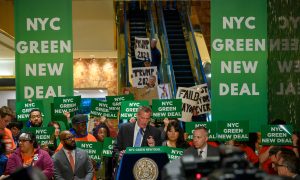 Commentary
Predictably, a public hearing on the implementation of the Climate Leadership and Community Protection Act (CLCPA) yielded little information about how much the massive environmental bill is going to cost New Yorkers. The size and scope of the bill is enormous, and the measures contained would completely overhaul the state's energy sector. Members of the Assembly Minority Conference have been asking for answers about the cost of the act's implementation since it was passed in 2019, but so far those efforts have been repeatedly rebuffed. The hours-long hearing on May 13 was no different.
The practice of determining the cost to implement any piece of legislation, especially one as far-reaching as this, should not be controversial. The CLCPA completely upends New York's energy grid. How can you pass a law with such significant financial impacts without first establishing the assumed cost increases for New Yorkers? Everyday New Yorkers don't buy groceries, clothing, appliances or pay their bills without first knowing the price. It's inconceivable that Democrats still fail to understand, or admit, that the state's middle-class families don't make purchases without knowing how much they will affect their pocket books.
Estimates of the annual price tag to implement the CLCPA are in the billions. Taxes and utility bills are expected to dramatically rise and the costs associated with retrofitting energy systems will mount. Per the Empire Center, preliminary estimates for generating the 9,000 megawatts of wind-borne electricity needed by the year 2035 are $50 billion, and $4 billion more would also be needed to cover subsidies and operating costs. Most of the burden is expected to fall on ratepayers outside of New York City, many of whom are already struggling with high bills, taxes, and energy costs—of course, these are just guesses since no one took the time to initially study the actual fiscal impacts—short- and long-term.
New York's economy isn't exactly thriving, particularly after the unprecedented year we all just endured. And yet, as prices increase, inflation rises and taxes go up, taxpayers will now be asked to cut a blank check for these new regulations? This is unfair and illogical lawmaking, particularly for everyday New Yorkers in a struggling economy.
In an effort to protect ratepayers and get answers to the questions we've been asking for almost two years, Assemblyman Phil Palmesano (R,C,I-Corning), the Minority Conference's Ranking Member on the Energy Committee, and members of our Conference introduced legislation to direct the Public Service Commission to conduct a full cost-benefit analysis of the CLCPA. There is simply no excuse for not providing a full, transparent cost-benefit report detailing exactly how much the CLCPA will cost.
The radical measures in the CLCPA are not only going to be costly, but it is unclear if they are even needed in the first place. The act has been billed as "New York's Green New Deal," despite the fact that New York only contributes approximately 0.5 percent of carbon emissions globally and approximately 3 percent in the U.S. We all want a cleaner environment; but we also need sustainable and affordable energy. It is unclear at this time if this new law will provide either of those things, and that is unacceptable.
Assembly Minority Leader Will Barclay can be contacted at barclayw@nyassembly.gov or on Facebook and Twitter at @WillABarclay.
Views expressed in this article are the opinions of the author and do not necessarily reflect the views of The Epoch Times.