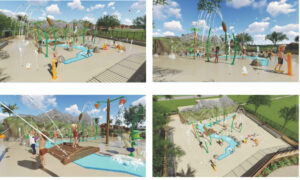 With summer heat waves on the horizon, officials in Rancho Santa Margarita, Calif. are breaking ground on a new public splash pad.
The Central Park Splash Pad has been in the works since 2017 after being unanimously approved by city council, Councilmember Brad McGirr told The Epoch Times.
After years of anticipation, city residents joined city council May 17 in the groundbreaking of the project. They were joined by former mayor Mike Vaughn, who brought the idea of a splash pad to fruition, McGirr said.
"We wanted to provide a safe and secure environment for the kids that live in our community," Councilmember Jerry Holloway told The Epoch Times.
Added McGirr: "It's not only great for the kids, but also obviously great for the parents who need a break and can sit there at the splash pad and watch their children."
Until recently, construction efforts have been slowed as a result of the COVID-19 pandemic and unforeseen weather conditions in Texas, where the parts are being manufactured.
The recreation area will contain many features, including a dumping bucket, sprayers and bubblers. The area surrounding the water play area is gated for security purposes, but will be open to the public, McGirr said.
Although an exact opening date has not yet been announced, the splash pad is expected to be ready in time for summer.