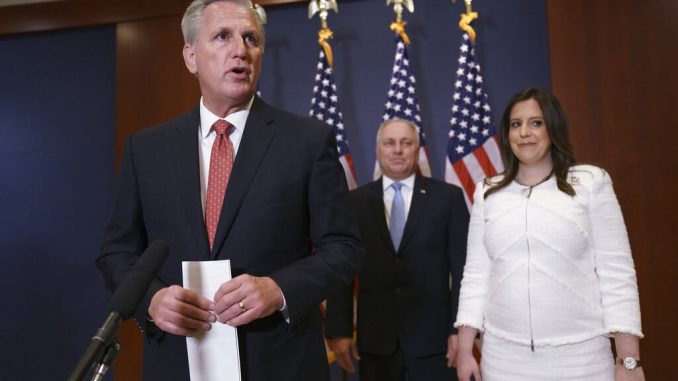 OAN Newsroom
UPDATED 12:26 PM PT – Wednesday, May 19, 2021
Republicans are pushing back against Democrat attempts to politicize the January 6 capitol breach. On Tuesday, House Minority Leader Kevin McCarthy (R-Calif.) and Minority Whip Steve Scalise (R-La.) urged GOP lawmakers to reject H.R. 3233, which would establish a 9/11-style commission to investigate the event.
McCarthy set it straight that House Speaker Nancy Pelosi (D-Calif.) failed to negotiate a fair bipartisan agreement and marred debate with political misdirection. He noted that while Pelosi was lying to the public about hashing out a fair agreement with GOP counterparts, she chose to go her own way by pushing for a panel stacked with Democrats.
"Well first I think it's a shame that Speaker Pelosi is not working in a bipartisan way on the suggestions that have been brought forth by many of our members," stated Scalise. "You've surely seen House Democrats run in a very unilateral way, where they're shutting an entire party out of the debate and that's unfortunate because we should be having a bipartisan debate about this."
McCarthy stressed the commission would be counterproductive and the scope of the commission's jurisdiction would produce similar results as several ongoing investigations. He cited DOJ and Senate investigations already taking place, where FBI agents have arrested nearly 450 people and are planning to arrest another 100.
Both he and Scalise also hammered home the point that the commission would only look at one specific event of political violence, where lawmakers have experienced many more. They advised Democrats to add events, including the 2017 shooting at the Republican congressional baseball practice that left Scalise hospitalized. Additionally, they said the commission should include the deadly attack on capitol police in April, where a man drove into officers stationed at a capitol barricade.
"Studies show 570 protests and 220 U.S. locations turned violent over the summer; are those not insurrections?" asked Rep. Marjorie Taylor Greene (R-Ga.). "Plus billion dollars in riot damages is estimated to be the most expensive in insurance history…we should have a commission to study the violent BLM and Antifa mobs that have plagued American cities this past summer."
However, GOP senators aren't showing the same vigor in opposing the commission. Senate Minority Leader Mitch McConnell (R-Ky.) said the caucus would listen to both sides of the aisle.
"It needs to be clearly balanced and not tilted one way or the other, so we have an objective evaluation," stated the Kentucky lawmaker. "So, I think it's safe for you to report that we are undecided about the way forward at this point."
In the meantime, political analysts expect H.R. 3233 to pass through the House by a partisan vote. In order to pass in the Senate, it would need at least 10 GOP senators to vote "yes."
President Trump has warned Republican lawmakers not to fall for the left's latest scheme. In a statement shared on Tuesday, he said GOP lawmakers should "not approve the Democrat trap of the January 6 Commission" while accusing the proposal of just being more partisan injustice.
.@POTUS45 on "the Democrat trap of the January 6 Commission":

"It is just more partisan unfairness and unless the murders, riots, and fire bombings in Portland, Minneapolis, Seattle, Chicago and New York are also going to be studied, this discussion should be ended immediately." pic.twitter.com/8aQlAPXB8Z

— Natalie Harp (@NatalieJHarp) May 19, 2021
The 45th president then urged the GOP to get much tougher and smarter, stating they must "stop being used by the radical left." His comments comes as top House Republican leaders continue to hold the line against the partisan January 6 commission.