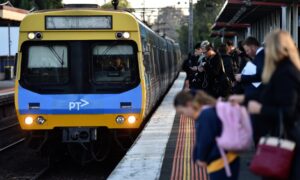 The Victorian Labor government has pledged almost $1 billion from the state budget to build 25 new "reliable and energy" efficient trains.
Speaking in Ballarat on May 18, acting premier James Merlino said the state government's project would create almost 750 jobs—including 150 jobs at Ballarat's Alstom factory—in manufacturing and across the supply chain in Victoria.
"These are trains made in Victoria, for Victorians, by Victorians—supporting local jobs at a time we need them most," Merlino said.
The new X'Trapolis 2.0 trains will support the gradual retirement of Victoria's current Coming fleet, with the trains set to run through Melbourne's Craigieburn, Upfield, and Frankston lines. The project will also see an upgrade to the Craigieburn Train Maintenance Facility.
The trains will be designed to carry 1200 people, beyond Comeng capacity of about 760.
The announcement follows two years of campaigning from Alstom and the unions for job security for the 70 workers at the Ballarat facility amid claims current staff had to find other activities while waiting for the announcement, reported The Herald Sun.
"There's nothing wrong with taking your time. Taking your time means you can get the design work done. You can work collaboratively with the department; you can have a good look at the lines that the train will run on, you can look at world's best practice from Europe on what the modern train will do," Minister for Public Transport Ben Carroll said.
Alstom Australia director Mark Coxon said the workshop was an integral part of the Ballarat community.
"We've seen many generations of workers come through this facility learning their craft and applying their trade, building trains for Victoria," Coxon said.
Fifteen percent of jobs at the site would go to apprentices, while seven percent will go to disadvantaged Victorians, Coxon added.
However, Shadow Transport Infrastructure Minister David Davis has questions over whether the state government ran a proper tender process for the project.
"Victorian jobs are good, but let's get the right jobs with the right trains," he said.
Rail, Tram and Bus Union (RTBU) state secretary Luba Grigorovitch welcomed the announcement for the Ballarat workshops, reported the Herald Sun.
"The RTBU will continue the fight to ensure this order is the first of many creating a rail manufacturing pipeline for the Ballarat workshops," Grigorovitch said.
Manufacturing is set to begin in late 2022, with about 60 percent of design and manufacturing being done in Victoria.
Some parts will be brought from China and Europe.
AAP contributed to this report.