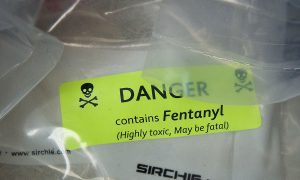 A Laguna Hills, Calif. man is facing federal charges for allegedly supplying the fentanyl that led to a fatal drug overdose in March.
The 26-year-old was arrested May 12 after his fingerprints were found on the victim's parcel of drugs, the Orange County Sheriff's Department (OCSD) said May 18.
"We will continue to attack the epidemic on all fronts [and] hold those accountable that are supplying these narcotics in the community," OCSD spokesperson Todd Hylton told The Epoch Times.
The victim, whose name has not been released, recently moved from Orange County to Utah to enroll in a drug rehabilitation program. He died in March after being sent a parcel of drugs containing fentanyl, police said.
Jason Amin Soheili was arrested and charged.
He was previously arrested twice for advertising drug sales. Last Aug. 13, he was nabbed by sheriffs for allegedly promoting drug sales on social media. Within a day, police said, he had posted bail.
He was arrested a second time last Nov. 20 for again attempting to sell drugs on social media, police said. He was released on bail the same day.
Federal authorities on May 13 announced criminal charges against 12 people—including Soheili—who allegedly sold or provided opioids to users who suffered fatal overdoses.
Each person was charged with distribution of narcotics resulting in death. If convicted, the charge carries a minimum 20-year prison sentence and maximum sentence of life without parole in federal prison.
"These charges are the first steps in bringing justice to the families of victims who often died without knowing they were ingesting some of the world's most powerful opioids," acting U.S. attorney Tracy L. Wilkison said in a press release.
"The conduct alleged in these cases demonstrates the grave threat people face now that fentanyl is widespread and is commonly hidden in a variety of illicit narcotics. The danger posed by opioids is real—both for unwitting users who risk death and for the dealers who face decades in prison for spreading deadly poison in our communities."
Soheili is scheduled to appear in court June 1.