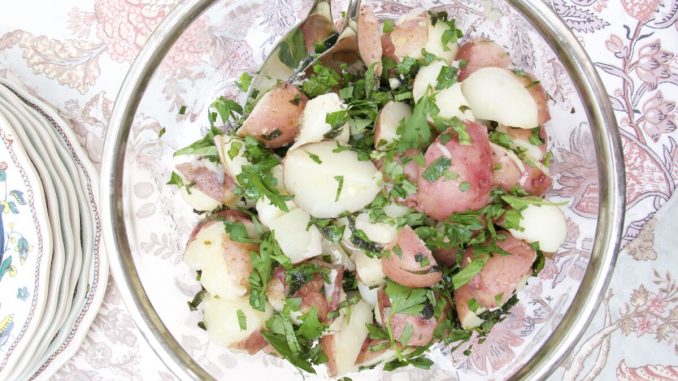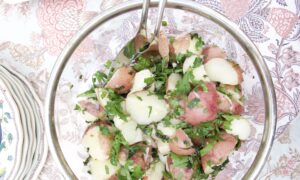 This simple potato salad is made with baby red potatoes, olive oil, garlic, and masses of fresh herbs. Toss it together while the potatoes are warm, so they absorb all those wonderful flavors, but serve at room temperature or chilled. I make it in the morning and take it out of the fridge 20 minutes before serving, so that the oil comes back to room temperature.
I am partial to red baby potatoes, as the combination of the red, white, and green is so cheerful and charming, but fingerling, Yukon gold, and even large Idaho potatoes would work; just dice them to an even size. Other additions could be bacon bits, scallions, and finely diced shallots, to play with colors, textures, and flavors.
Serves 4 to 6
2 cups mixed fresh herbs, such as parsley, dill, and tarragon, stems removed and roughly chopped
1/2 cup olive oil
1 clove garlic, minced
2 pounds baby red potatoes, cut in half or quarters
Sea salt and freshly ground black pepper to taste
In a small bowl, combine the herbs, olive oil, and garlic. Season with salt and pepper and set aside.
In a large pot of salted boiling water, boil the potatoes until fork-tender, about 20 minutes. Drain them and transfer to a serving bowl. Dress with the reserved sauce and mix well. Taste to adjust seasonings.
Chill until ready to serve.