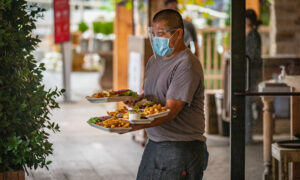 Some businesses in Orange County, Calif. will be allowed to boost capacity as the region slides into California's less-restrictive reopening tier May 19.
Improving COVID-19 metrics permit the county to enter the yellow tier under the state's blueprint for a safer economy, the California Department of Health said May 18.
The new tier will allow some businesses to increase capacity. Amusement parks can increase outdoor capacity from 25 percent to 35 percent. Museums, aquariums, and zoos can move to full capacity after being previously limited to 50 percent capacity.
Bars that do not serve food can also go from outdoors only to 25 percent capacity indoors. Movie theaters can increase from 25 percent to 50 percent capacity.
Despite the move, restaurants do not get much more leeway than in the more-restrictive Orange tier, and must stay at 50 percent capacity.
Jim Walker, an Orange County-based restaurateur and former president of the Newport Beach Restaurant Association, said that the move in tier really just helps bars, not restaurants.
Despite whatever capacity limits are allowed in the restaurant industry, many restaurants will not be able to achieve that capacity due to social distancing limits, he said. Tables have to be spread apart, which do not always allow for full use of that capacity limit, Walker said.
"It's an improvement, we're happy about it, we're going in the right direction," Walker told The Epoch Times. "[But] we have to maintain a six-foot space between our tables, people still, when they enter the restaurant have to wear a mask. We're still under pretty much under COVID protocol."
Walker said he hopes that when all California counties enter the green tier on June 15 for a full reopening, it will mean tables no longer have to be spread apart in restaurants.
"Newsom has indicated that on the 15th of June, California will be pre-COVID, it'll be wide open once again, so we're hoping what that means is we will no longer have the six-foot requirement and that we can truly fill our restaurants to whatever capacity levels were allowed," Walker said. "So, it's progress, let's just say that."
Asked if he thinks restaurants will return to pre-pandemic levels of customers anytime soon, Walker said he thinks the county's restaurants have already surpassed that.
"I think that we are past pre-pandemic crowds, at least [my restaurants] are and many of the restaurants I talked to are," Walker said. "The upside of this is that when you think about it, restaurants have been really one of the few things that people can do. They can't go to theaters, they haven't been able to go to football games or baseball games."
Walker continued: "Now [as limitations are] starting to lift, I'm actually concerned that our business may go down, because as people start to travel, as people can go to theaters, they will diversify their activity. So, it may in fact flatten out or get worse. I'm hoping not, but I wouldn't be surprised if getting back to normal would mean we might actually do less business than [the industry] is currently doing."
The change in tiers will not affect certain safety precautions, as the state announced May 17 that despite CDC guidance that allows vaccinated people to go mask-free in most indoor situations, California will keep its mask mandates until June 15.