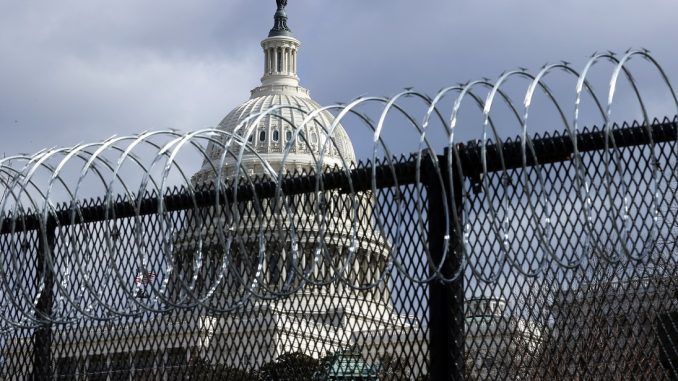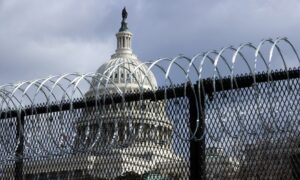 The Justice Department has accused a Maryland man of carrying a semi-automatic handgun and ammunition during the Jan. 6 breach of the U.S. Capitol building, among 9 other charges.
A superseding indictment from the Department of Justice (DOJ) alleges that Christopher Alberts was carrying an Taurus G2C semi-automatic handgun on Capitol grounds without a licence on Jan. 6 where the vice president and vice-president elect were visiting, and that he also had in his possession a "large capacity ammunition feeding device."
Alberts, who has pleaded not guilty on all counts, is also accused of resisting arrest and of knowingly engaging in an "act of physical violence" on Capitol grounds, and entering and causing "disorderly and disruptive conduct" in a restricted building and grounds with a "deadly and dangerous" weapon.
The indictment also accuses Alberts of forcibly assaulting, resisting, opposing, impeding, intimidating and interfering with a U.S. officer and employee. Alberts faces a total of 10 counts.
According to a court documents (pdf), a member of the Civil Disturbance Unit (CDU) deployed to Capitol grounds on Jan. 6 noticed Alberts responding slowly to orders to leave the premises, and later noticed a bulge on his right hip which "was consistent with that of a hand gun." He was also wearing a bullet-proof-vest and had a gas mask, the complaint says.
Alberts then unsuccessfully attempted to flee after the CDU member alerted officers near him that he was in possession of a firearm. While in custody, he said he had the firearm for personal protection and that he did not intend on using it to harm anyone.
It comes after FBI counterterrorism official Jill Sanborn in March testified at a Senate hearing that she had no knowledge of any guns being recovered from suspects who were arrested during the incident.
When asked by Sen. Ron Johnson (R-Wis.) about whether firearms were recovered or if any suspect was charged with firearms offenses, Sanborn responded: "To my knowledge, none." She qualified her remark by saying that she did not want to speak for Capitol Police first.
But in the hearing, Sanborn also said that before the Jan. 6 incident, "We knew they would be armed, we had intelligence that they would be coming to D.C., but we did not have intelligence that they would be breaching the Capitol."
"I believe that the only shots that were fired were the ones that resulted in the death of the lady," Sanborn also testified, referring to the officer-involved shooting and death of Trump supporter Ashley Babbit.
The DOJ said they have arrested about 440 individuals on charges related to the incident, including over 125 individuals charged with assaulting or impeding law enforcement. A majority of cases are related to entering a restricted building, obstruction of an official proceeding, and civil disorder. Federal authorities are still looking for suspects connected to the breach.
Jack Phillips contributed to this report.