Andrew Giuliani, the son of former New York mayor Rudy Giuliani, announced Tuesday that he's officially running for governor of New York in 2022.
The young Giuliani, who also served as a former aide in the Trump administration, launched a campaign website on Tuesday, touting several of his accomplishments in the state and his experience as a business CEO while also completing an apprenticeship in finance and real estate during that time.
"For New Yorkers, Andrew helped to preserve thousands of MTA jobs by facilitating CARES Act funding," the website reads. "He also worked with the Treasury Department and Health and Human Services to ensure that the $3.9 million that had been inadvertently taken out of the 9/11 First Responders Fund over thirteen years and three administrations was completely refunded."
Giuliani, 35, told several media outlets early last month he was "strongly considering" a run for New York governor in 2022.
"I plan to run," Giuliani told the Washington Examiner, saying that he believes he has the best chance to "win and take the state back" outside of "anybody named Trump."
"I think there's an opportunity in 2022 with a wounded Democratic candidate, whether it's going to be Gov. [Andrew] Cuomo, whether it's going to be a radical [Attorney General] Letitia James, whether it's going to be a no-name lieutenant governor, I think there's a very, very real chance to win," he said.
Giuliani, who has never been elected to public office, will be running against several other Republicans who have already declared their candidacies, including Rep. Lee Zeldin, who currently represents the state's 1st Congressional District and has already been backed by several Republican officials.
Giuliani's announcement for candidacy comes amid a series of escalating controversies for Gov. Andrew Cuomo, a Democrat now in his third term and expected to run for a fourth who has recently been met with multiple allegations of sexual harassment against him, as well as his handling of the CCP (Chinese Communist Party) virus pandemic, particularly regarding nursing home deaths.
Cuomo, 63, has denied the allegations against him.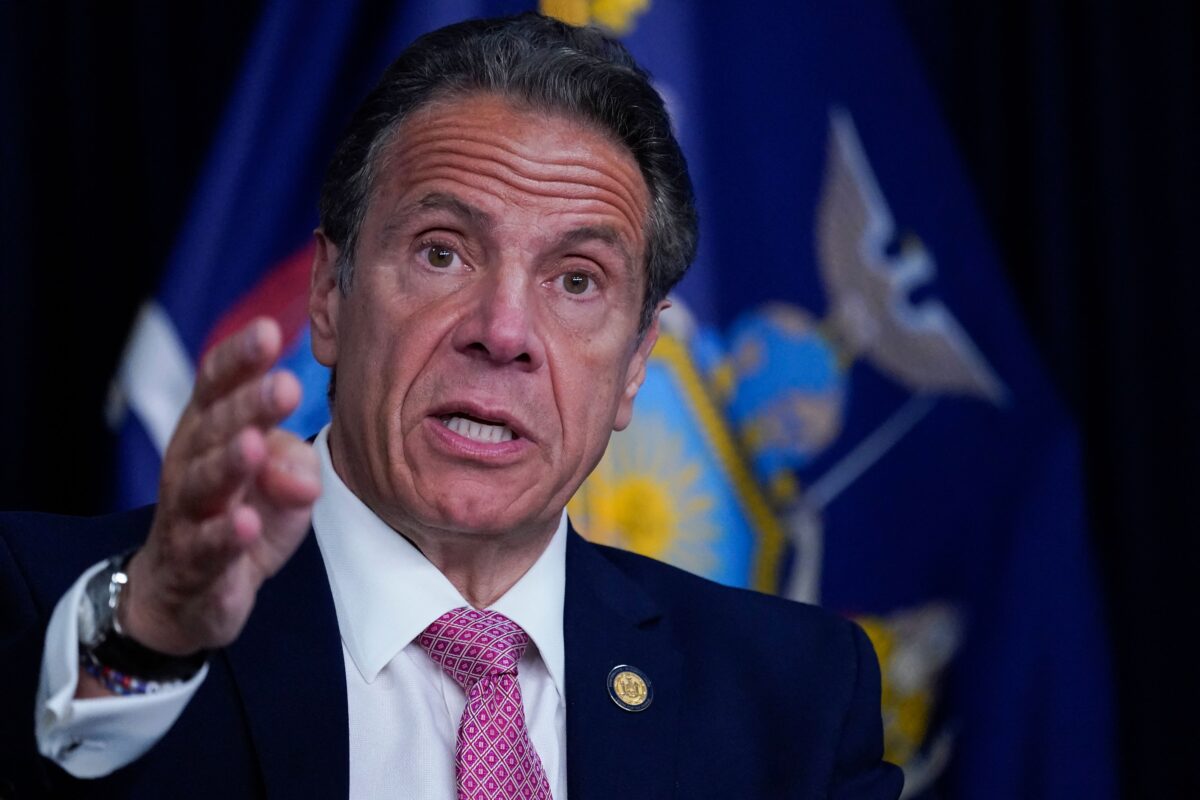 During an interview with the New York Post, Giuliani said he is confident in defeating the incumbent governor next year.
"I'm a politician out of the womb. It's in my DNA," he said, referring to his father, who served as the 107th Mayor of New York City from 1994 to 2001. "I know we can defeat Andrew Cuomo in 2022. I am going to be the 57th governor of New York," he added.
Giuliani brought up Cuomo's controversial actions related to thousands of deaths in nursing homes in New York, saying the governor should have resigned.
"It was Andrew Cuomo's actions that killed 9,000 senior citizens in nursing homes in New York," he said. "Cuomo didn't use the USS Comfort ship or the Javits Center to house seniors with COVID. He didn't want to give President Trump a political victory."
In 2017, Giuliani was appointed by President Donald Trump to the position of associate director in the Office of Public Liaison. Late last year, Trump named him to serve on the United States Memorial Holocaust Council.
He was added as a contributor to Newsmax TV last month, after appearing as a guest on the conservative network while still employed by the White House.
Isabel van Brugen contributed to this report.
From NTD News