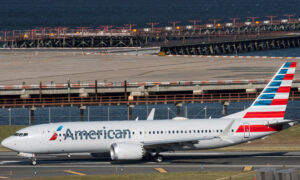 American Airlines says it's investigating a Texas-based pilot who spoke against an effort by his local school district to implement elements of critical race theory.
Guy Midkiff of Southlake, Texas, has been flying for American Airlines for more than 30 years, according to the Dallas Morning News. His job remains uncertain, however, after he criticized a "Cultural Competence Action Plan" (CCAP) proposed by Carroll Independent School District online and in podcasts.
The plan, which was developed by Carroll's diversity council after white students were caught on video singing a rap song that contains a racial slur, called for the district to hire "equity and inclusion" officials, encourage students to report each other for "microaggressions," and impose mandatory "diversity training" on students and staff.
The critical race theory-inspired CCAP has sparked intense pushback from members of Southlake community, including Midkiff, who used social media and a podcast to document to criticize the CCAP and its proponents, reported the Morning News. This made him a target of pro-CCAP activists, who repeatedly sought American Airlines' attention, calling on the company to fire Midkiff for alleged online harassment.
Critical race theory is a quasi-Marxist ideology that holds that racism is ingrained in the United States.
In a May 10 post on Twitter, Southlake Anti-Racism Coalition (SARC) claimed Midkiff had been harassing people online, although none of Midkiff's posts the group cited as evidence actually tagged any individual.
"Your employee has been harassing students and community members relentlessly for months for speaking out against the racism they experience in our town. From targeting individual minors and accosting our organization, here are just some of his most recent unprofessional comments," the SARC said.
Another Twitter account stated, "Hey [American Airlines], why is this man saying he is a pilot for your airline? He is consistently harassing minority females in Southlake and now is going after our students!"
In response, American Airlines' official account said the allegations are concerning, and asked the accusers to provide the link to Midkiff's comments "for us to take a closer look."
The company later told the the Morning News that it is investigating Midkiff, saying, "We are troubled by the allegations made and have launched an investigation into the matter."
Midkiff did not back down on his criticisms of the CCAP. Instead, he blasted the activists for allegedly using teenage students as a shield so that they can accuse anyone who doesn't agree with them of harassing minors.
"A tactic of the left is to push kids out front to lead their cause," he wrote on Twitter. "They do this to insulate themselves from attacks by adults that fear being called a 'grown man' 'harassing students' for challenging their false narrative."
"Never give in to the bully tactics of the leftists," he added.