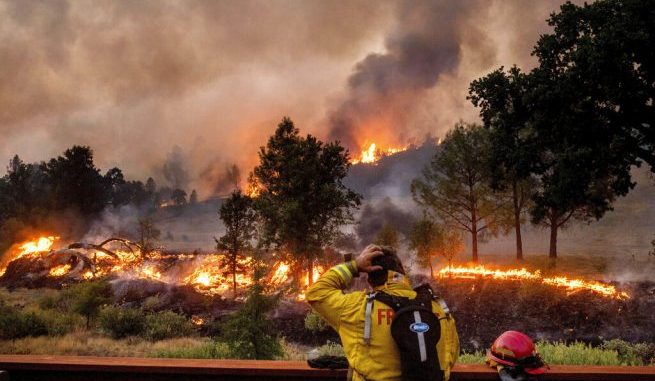 OAN Newsroom
UPDATED 8:14 AM PT – Monday, August 24, 2020
Hundreds of wildfires have continued to burn across California while residents brace for what lies ahead. As of Sunday, over 14,000 firefighters are battling over 580 fires throughout the region.
The fires, believed to be sparked by dry lightening strikes, have burned through nearly 1 million acres in a week. The blazes stem from northern parts of the San Francisco Bay Area all the way down to Southern California.
Thousands are being forced to evacuate their homes in some areas, while others remain on high alert of the incoming flames. Meanwhile, firefighters working through hot and dangerous conditions remain committed to protecting California residents and preserving any structure they can.
"It's tragic, but our chiefs back home…they are aggressive in the training we have in our brush response and we adequately prepare for it, so we can come out here and help out the communities wherever we are called to serve," said Capt. Antonio Negrete of the San Gabriel Fire Department.
Two of the fires currently burning, the LNU and SCU Lightening Complex fires, are in the top 10 largest in the state's history. Over the weekend, President Trump issued a disaster declaration for the state, which allocates federal funds toward effected residents and businesses.
In a statement, California Gov. Gavin Newsom (D) thanked the president for his partnership during these "unprecedented times." The Democrat also reached out to neighboring Canada and as far as Australia for additional help in containment efforts.
Get the most recent information on some of CA's fires:#LNULightningComplex: @CALFIRELNU#CZUComplex: @CALFIRECZU#SCULightningComplex: @calfireSCU#RiverFire #CarmelFire: @CALFIREBEU

Prepare for wildfires▶️https://t.co/cUc8yLYlyj#CaliforniaWildFire

— Office of the Governor of California (@CAgovernor) August 24, 2020
Despite fire crews making progress in some counties, forecasters fear poor incoming weather conditions could spark new blazes throughout the state.