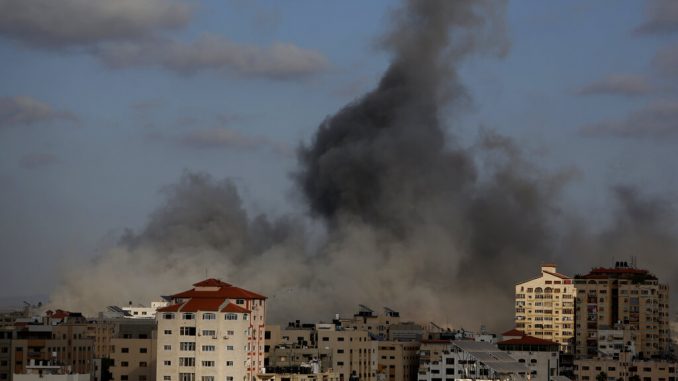 OAN Newsroom
UPDATED 12:49 PM PT – Monday, May 17, 2021
Israel has intensified its response to attacks from Islamic militant groups, unleashing a series of aerial assaults on Gaza City. Israeli military officials said they have specifically targeted the homes of nine Hamas commanders who reportedly have gone underground. This includes Yahiyeh Sinwar who is the terrorist organization's top leader in Gaza.
Hamas has been unrelenting, launching more than 300 rockets since Saturday from civilian areas in Gaza toward densely populated regions in Israel. An Islamic militant rocket blasted a synagogue in southern Israel just hours before Sunday evening services for the Jewish holiday of Shavuot.
Israeli Prime Minister Benjamin Netanyahu said Israel will continue to respond forcefully to attacks from Hamas for as long as it takes to restore security for his people. He also confirmed Israel has eliminated dozens of terrorists and seriously degraded the infrastructure of Hamas, including missile launchers and a vast subterranean network known as the "terror tunnel."
A close shot of IDF airstrikes earlier today against the Shorouk Tower. #Gaza #Israel pic.twitter.com/U65YQ8oliW

— Joe Truzman (@Jtruzmah) May 13, 2021
Netanyahu also pointed out that Hamas is committing a double war crime with its indiscriminate attacks on Israel.
"They're targeting our civilians and hiding behind Palestinian civilians, effectively using them as human shields," stated the prime minister. "As always, Israel is doing everything possible to protect our civilians and keep Palestinian civilians out of harm's way."
Hamas terrorist in Gaza have fired more than 3,000 rockets into Israel, in turn, killing at least eight people this past week. The conflict erupted last Monday when Hamas fired rockets at Jerusalem after Israeli police clashed with Palestinian protesters trying to prevent the eviction of eight Palestinian families from the Sheikh Jarrah neighborhood in east Jerusalem.