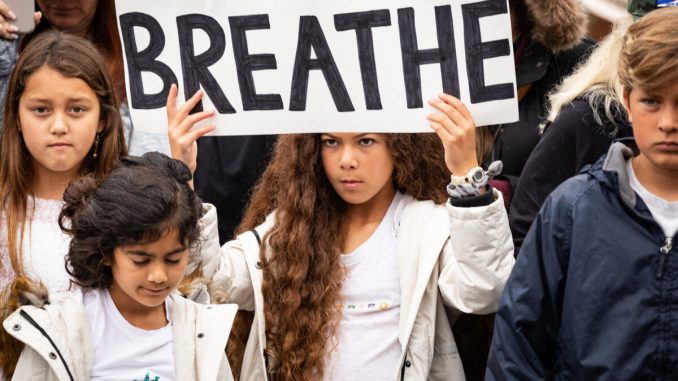 COSTA MESA, Calif.—About 350 parents and children gathered in front of the Orange County Department of Education (OCDE) May 17 to protest schools mandating students to wear masks in classrooms.
Kids bustled and played, splashing in puddles, while their parents held signs saying "Unmask our children," and "just say no to masks." One child held a cardboard sign that read "I want to breathe."
Mother of two Maren Chen—who has one child in preschool and the other in kindergarten—said her son hates wearing face coverings and treats it like a joke.
"He's a really loud and outgoing kid. So, he just kind of looks at it as fun and silly and uses them as a slingshot," Chen told The Epoch Times.
"Then for me, as a parent, I have to send him with three to four masks a day, because they're coming home wet and soaked and gross. I don't want him wearing these things that are setting him up for bacterial pneumonia because they're so gross by the end of the day."
The activist group Informed Parents of California was behind the rally and helped orchestrate other mask-off protests across the state.
Huntington Beach Councilman Tito Ortiz, California Blexit Director Barbie George, and other speakers took turns on the microphone under a red tent in the OCDE parking lot.
"You don't mask the healthy you mask the sick. And this is something that I never really understood," Ortiz told the crowd. "Wash your hands. I teach my children brush your teeth twice a day. Wash your hands every time you come into the house, wash your hands. This is common sense."
School board Trustee Mari Barke told The Epoch Times the OCDE voted 4-1 not to mandate mask wearing for children in schools last July. However, they don't have official jurisdiction over what districts require. She said more people should organize rallies in their districts "because it's really those trustees that can affect change.
"I always encourage people to go fight for their rights."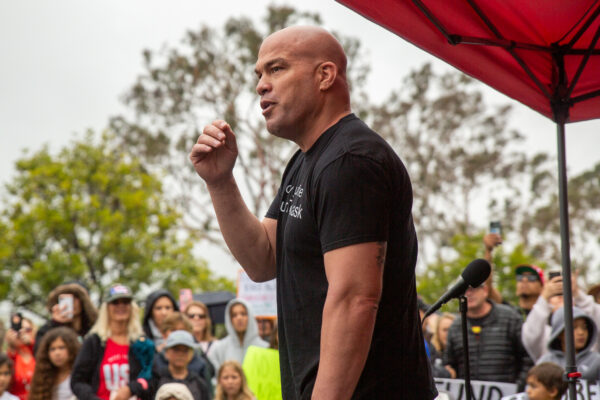 George said during her speech that her youngest is a gymnast who lost all her skills after a year of not being able to train. When her gym reopened, they required all gymnasts to wear masks.
"These girls are doing backhand springs and aerials, and the masks are riding up over their eyes. And how is that supposed to be safe with a mask on? And because we as parents love our children, and because we as parents are so desperate, I did. I took her to that class," she said.
"And I realized, this is wrong. We need to let our money speak for these organizations. So, we are not going to pay for their services unless our children can be free and be without masks."
California plans to lift its mask mandate for those who are fully vaccinated in most indoor settings by June 15.
However, parents such as Chen are skeptical.
"I've already heard that he's kind of gone back and forth, back and forth, and backpedaled with that a little bit," Chen said. "I don't really trust anything at this point that's being granted to us under the guise of giving us a little bit of freedom back."
Mother of four Ashley Woravka said her children in the Laguna Beach Unified School District complain about wearing masks, too.
"Especially during P.E., but they didn't want to stay home, so it's their choice to be there, I told them 'stay home don't wear the mask,' but they want to be at school," Woravka told The Epoch Times.
"So it's kind of worth it to them, but they're really tapping out now at the end of the year and crying before school."