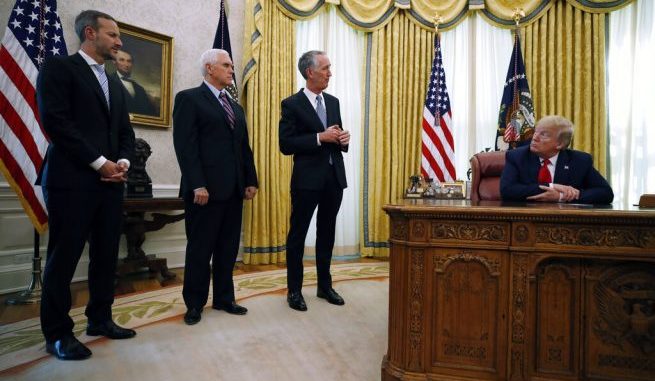 OAN Newsroom
UPDATED 4:10 PM PT — Wednesday, May 6, 2020
According to President Trump, the White House coronavirus task force will operate indefinitely to focus on safely reopening the country's economy.
In a series of tweets Wednesday, the president discussed imposing changes to the task force following weeks of its daily briefings on the status of the pandemic. He highlighted the success of the task force by saying it's brought "together highly complex resources that have set a high standard for others to follow in the future."
He noted "ventilators, which were few and in bad shape, are now being produced in the thousands" and "that face masks, shields, gloves and gowns are now plentiful."
….produced in the thousands, and we have many to spare. We are helping other countries which are desperate for them. Likewise, after having been left little, we are now doing more testing than all other countries combined, and with superior tests. Face masks & shields,….

— Donald J. Trump (@realDonaldTrump) May 6, 2020
President Trump went on to say the U.S. has so many of these supplies, it's now helping other countries. He added recent conversations with "governors have been conclusively strong."
"Because of this success, the task force will continue on indefinitely with its focus on safety and opening up our country again," stated the president. "We will also be very focused on vaccines and therapeutics."
….to it, as appropriate. The Task Force will also be very focused on Vaccines & Therapeutics. Thank you!

— Donald J. Trump (@realDonaldTrump) May 6, 2020
He added, "We may add or subtract people to it as appropriate."
This came after President Trump responded to reports the White House was considering disbanding the task force.
"Mike Pence and the task force have done a great job, but we're now looking at a little bit of a different form," he said. "That form is safety and opening, we'll have a different group probably set up for them."
Later on Wednesday, he confirmed the White House will be adding more people to the task force in the near future. He previously stated that the task force would be winding down, but he's since received positive feedback about its performance.
"I had no idea how popular the task force is until, actually, yesterday. When I started talking about winding it down, I'd get calls from very respected people saying I think it'd be better to keep it going, it's done such a good job. It's a respected task force, I knew it myself. I didn't know whether or not it was appreciated by the public, but it is appreciated by the public."
– Donald Trump, 45th President of the United States
President Trump on Coronavirus Task Force: "We'll be leaving the task force indefinitely, we'll see, you know, at a certain point that'll end like things end, but we'll be adding some people to the task force." pic.twitter.com/lzW4t1Icr8

— Elma Aksalic (@ElmaAksalic) May 6, 2020
According to the president, Dr. Anthony Fauci and Dr. Deborah Birx will remain on the task force.
RELATED: President Trump: People Won't Stand For Our Country Being Closed