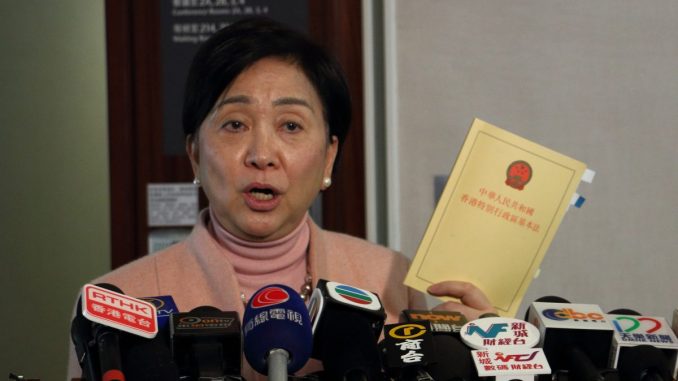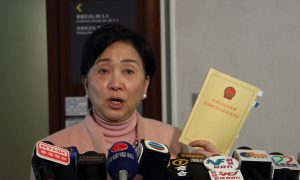 In Hong Kong, the struggle for democracy and freedom will continue despite the local government's crackdown on opposition figures, activists, and press freedom, said Hong Kong's "Iron Lady" Emily Lau.
"I can tell you the game is not over. We will continue to struggle to defend our free lifestyle and our freedoms but in a peaceful and non-violent way," Lau said in a recent interview on The Epoch Times' "American Thought Leaders" program.
Hong Kong, a former British colony, has seen a drastic deterioration of press and other freedom as the Chinese Communist Party (CCP) has tightened its grip over the city. According to Washington-based nonprofit Freedom House, Hong Kong saw its score for civil liberties dropped from 45 in 2017 to 37 this year.
The significant drop in the score is in part due to a draconian national security law, which the Chinese regime imposed on Hong Kong last year. Since then, a local media newsroom was raided by the police, many activists and opposition figures have been detained and charged, a "patriotic" oath law was implemented, and the city's electoral system was overhauled to cut down the number of seats in the city's Legislative Council to be directly elected by the public.
"Things are terrible and very difficult [in Hong Kong]. … More people could get arrested in the coming days, weeks, and months. And people have warned me many times that I could be a target," Lau said.
Lau, 69, is currently a prominent pro-democracy figure in the city. Before then, she was a longtime lawmaker from 1991 to 1997 and 1998 to 2016, as well as being the chairperson of the city's opposition Democratic Party from 2012 to 2016.
She was a vocal supporter of the city's ongoing anti-CCP, pro-democracy movement, which started in June 2019 when millions took to the streets in protest against a now-scrapped anti-extradition bill.
In November 2019, she and another local activist Figo Chan, on behalf of all Hong Kong protesters taking part in the movement, accepted the 2019 John McCain Prize for Leadership in Public Service. The award paid homage to protesters for "their struggle to preserve their rights and to press for democratic reform."
Despite being at risk of being prosecuted by the Hong Kong government over her roles in the movement, Lau said she "had no plans to go anywhere."
Many Hongkongers who share Lau's concern have fled to other cities and regions, including Taiwan and the UK. Among prominent figures who have left the city are activist Nathan Law and former lawmaker Ted Hui.
Lau also described a current reality in Hong Kong—people are now less willing to speak to the media, either foreign or local. She added: "We cannot blame people. We have to understand the pressure they are under."
She also quoted a previous remark by Keith Richburg—president of the Foreign Correspondents' Club in Hong Kong and director of Hong Kong University's Journalism and Media Studies Center—describing the declining press freedom in the city as "death by 1,000 cuts."
Richburg made the remark during an online program hosted by Lau that was aired by local online television OurTV earlier this month. He used the remark to describe a series of recent incidents that have brought down the city's press freedom.
One of the incidents mentioned by Richburg involved Bao Choy, a freelancer producer with local public broadcaster RTHK, who was found guilty and fined in April for making false statements to obtain vehicle records, which were used in her documentary examining a mob attack on commuters at a Hong Kong metro station on July 21, 2019.
However, Lau said she was not afraid to speak to the media, while being fully aware that the Hong Kong authorities might use what she said against her.
"And I just feel that I just would not allow myself to be intimidated into silence," Lau said. "We have to stand up with dignity, to defend what we believe in, but to take the consequences— that I know."
According to Paris-based Reporters Without Borders, Hong Kong's press freedom index dropped from 18th place in 2002 to 80th this year.
Lau also pointed to the recent attack against Sarah Liang, a reporter for the Hong Kong edition of The Epoch Times, saying it was "absolutely abominable."
Liang was assaulted by an unidentified man wielding an aluminum softball bat at noon on May 11. The attack left bruises on both of her legs. The assault happened about a month after the Hong Kong edition's printing plant was attacked by hammer-wielding intruders. The same printing press was set on fire by four masked individuals in November 2019. It's widely believed that the CCP is behind all three attacks.
"So people in journalism, people in politics, activists—people are very, very alarmed and very scared. So you're looking at a very anxious, very apprehensive, and very unhappy city," Lau concluded.