Purge of conservatives and Trump supporters will divide military, weaken the nation against foreign attacks
Commentary
Lt. Gen. Stephen Whiting, head of Space Operations Command, has removed Lt. Col. Matthew Lohmeier from his command post at Buckley Air Force Base in Colorado. According to a May 15 Military.com report by Oriana Pawlyk, Gen. Whiting made the move because of a "loss of confidence in his (Lohmeier's) ability to lead." A more likely scenario is that Lt. Col. Lohmeier was dismissed for the things he had written and said.
Lohmeier is a 2006 graduate of the United States Air Force Academy with a master's degree in military operational art and science and a master's of philosophy in military strategy. Lohmeier began his career as a pilot flying the T-38 and F15-C fighters. He transferred to the United States Space Force in October of 2020 tasked with detecting enemy ballistic missile launches.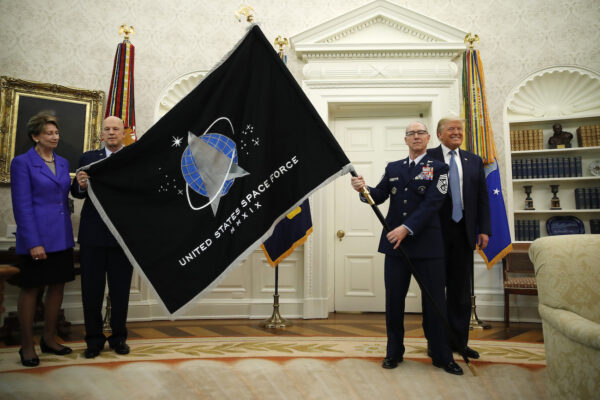 Lt. Col. Lohmeier represented the Space Force in former President Donald Trump's November 26, 2020, video conference with officers from the Army, Navy, Air Force, Marine Corps, Coast Guard, and Space Force.
"You keep watch around the world to detect missile launches, space launches, and nuclear detonations while providing critical intelligence." Trump said of Lohmeier. The Lt. Col. thanked the president for his "advocacy for an independent Space Force," and said "we're making great progress."
Pawlyk contends that Lt. Col. Lohmeier was "fired for comments made during a podcast promoting his new book, which claims Marxist ideologies are becoming prevalent in the United States military." The book is Irresistible Revolution: Marxism's Goal of Conquest & the Unmaking of the American Military, which Lohmeier recently discussed on the "Information Operation" podcast with L. Todd Wood.
A Space Force statement claimed the decision to remove Lt. Col. Lohmeier was "based on public comments" he made that are now being investigated for "prohibited partisan political activity." Lohmeier argued that Biden Defense Secretary Lloyd Austin is promoting critical race theory, rooted in Marxism, and which in Lohmeier's view "will divide us."
"It will not unify us," Lohmeier warned.
In the U.S. military, according to Lohmeier, "if you're a conservative, then you're lumped into a group of people who are labeled extremists if you're willing to voice your views." On the other hand, for those aligned with the left, "It's OK to be an activist online because no one's gonna hold you accountable."
As it happens, hostility to conservatives was the policy of the composite character and president that David Garrow described in Rising Star: The Making of Barack Obama.
Consider Challengers from the Sidelines: Understanding America's Far-Right, written by Arie Perliger, an associate professor at the Combating Terrorism Center at the U.S. Military Academy at West Point in 2013, who charted groups that "espouse strong convictions regarding the federal government, believing it to be corrupt and tyrannical, with a natural tendency to intrude on individuals' civil and constitutional rights."
As journalist Mark Tapson noted in 2013 in an article titled 'Demonizing America's Mainstream Right,' "that pretty much describes every conservative I know." Joe Biden's campaign against "domestic terrorism" now targets the same people.
On Feb. 5, Austin ordered the military to observe a one-day stand-down on "extremism" in the ranks. Lt. Col. Lohmeier said he was given a booklet citing the Jan. 6 breach of the Capitol, referred to as the Jan. 6 Capitol riot, as an example of "extremism," while ignoring the widespread rioting across the country last year.
The action against Lohmeier echoes the targeting of Gen. Michael Flynn, Trump's pick for National Security Advisor. Gen. Flynn had been "unmasked" by members of the Obama administration, including then-Vice President Joe Biden, thus exposing Flynn to surveillance and hostile action by the FBI. Joe Biden never served in the military and opposed the plan to kill 9/11 terrorist mastermind Osama bin Laden. Biden also criticized Trump's action to take out Iranian terrorist Gen. Qassem Soleimani.
Created by President Trump, the United States Space Force is a convenient bull's-eye for Biden. Lt. Col. Lohmeier could be forgiven for perceiving the action against him to be part of Biden's purge of conservatives in general and Trump supporters in particular. Such a purge would further divide the nation and weaken the ability of the U.S. military to protect the nation from foreign threats while caught up in domestic disputes.
Lt. Col. Lohmeier flies the F-15C, a version of the F-15 Eagle fighter, which can hit speeds of 1,875 mph (Mach 2.4) and boasts a range of 3,450 miles. With its M-16AI cannon and Sidewinder missiles, the Eagle is designed strictly for air-to-air combat. At least one politician thought the fighter might come in handy against peaceful protesters on the home front.
Four California National Guard whistleblowers told the Los Angeles Times that the California National Guard put an F-15C fighter on standby to "buzz" any crowds daring to resist stay-at-home orders at the outset of the pandemic last year. Embattled Americans might wonder what kind of leadership would deployment a supersonic fighter jet against civilian protesters.
Any order to deploy the F-15C would have had to come through Gov. Gavin. Newsom, commander-in-chief of the California National Guard. According to the National Guard whistleblowers, the orders were allegedly handed down orally or through text messages rather than in an official manner. An official investigation into the F-15C matter has yet to be announced.
Gov. Newsom is being touted as 2024 presidential contender but faces a recall election in his home state this year.
Lloyd Billingsley is the author of "Yes I Con: United Fakes of America," "Barack 'em Up: A Literary Investigation," "Hollywood Party," and other books. His articles have appeared in many publications, including Frontpage Magazine, City Journal, The Wall Street Journal, and American Greatness. Billingsley serves as a policy fellow with the Independent Institute.
Views expressed in this article are the opinions of the author and do not necessarily reflect the views of The Epoch Times.