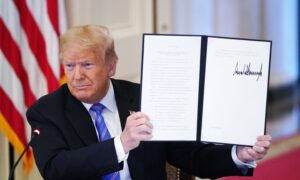 Former President Donald Trump said that he is not aiming to make the Republican Party his party, seemingly responding to criticism from certain House GOP lawmakers in recent days.
"I'm not looking to have it be the party of Trump," Trump said on WABC New York on Thursday, adding that he wants the GOP to adopt policies that were part of his "Make America Great Again" movement. "I'm looking to have a great country."
"I'm looking to have a country that is run by people that know what they're doing, and we had it going" before the Nov. 3 election, Trump said.
In several recent interviews and statements, the former president has said that he is planning on helping Republicans take back the House and Senate in 2022. Then he will make a decision or an announcement on whether he will run for president in 2024.
Meanwhile, Facebook's Oversight Board said that it would keep his account banned indefinitely. Both Facebook and Twitter banned Trump in January, leading Trump to create a section on his website dedicated to statements.
"I'm loving what I do, and I'm loving the results that we've had, and I think people will be very happy with my decision," he told WABC. "I will tell you, I love the results that we've had. I've done a great job for the American people. I think they understand that."
Trump on Thursday did not say whether he would run for president. He said that Americans should "stay tuned" for more announcements.
Also in the WABC interview, the former commander-in-chief decried the Biden administration's policies and messaging, saying that the crisis along the U.S.-Mexico border needs to be dealt with.
"I just think it's incompetence, and nobody can be happy with what's happening at our border," Trump said. "I don't care whether you're liberal or whether you're conservative, whether you're Democrat, Republican, nobody can be happy. I don't believe that. This is what they want. And now they've lost control. And by the way, it's not easy to just turn it off."