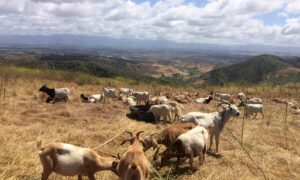 The City of Yorba Linda has commissioned  herds of goats to help it mow down weeds in preparation for the upcoming fire season.
The bearded mammals will patrol the city's West Bastanchury site from May 19 to May 30 under a $13,000 pilot program approved by city council May 4.
The goats come from Sage Environmental Group, who was the vendor chosen by city staff. On selected days, Sage will bring goats to the site in trucks where they will be put in targeted areas using a low-voltage fence. Dogs will be brought in to protect the goats from coyotes at night.
Sage will bring baby goats from the herd to a special community meet and greet on May 22 from 10 a.m. to 2 p.m., as part of Love Yorba Linda Day.
Sage does goat grazing for many other cities in Orange County and other areas as well, said Yorba Linda public works director Jamie Lai.
"They are able to manage very large acreage," Lai told council during the May 4 meeting. "The West Bastanchury site is about 40 acres. But they usually take the goats and move them around in the fences that they do have. They also manage a lot of inaccessible areas as well such as the slopes."
Weed seeds cannot travel through goats' digestive systems, so there is no concern that the goats' droppings will reintroduce weeds into the soil, Lai said. In fact, she said, droppings are a great fertilizer.
"They are great for the fire fuel load control," Lai said. "They take care of a lot of the invasive and noxious weed controls, and they're capable of grazing about half to one acre per day, per 100 goats. For the West Bastanchury site, they'll have about 150 to 200 out there at a time."
Sage can also help to install fire-resistant plants to help during the fire season. Workers can go and drop seeds for those types of plants, and the goats will stomp on them, which helps plant the seeds into the ground.
The goats' diet will also be supplemented by other forms of nutrition, so they won't only be eating weeds.
Although they may be cute, they aren't pets, said Yorba Linda Mayor Peggy Huang.
"They're not friendly at all," she said in a joking-yet-serious manner during the council meeting. "I think that is why the electrical fences will be very good for everyone to protect the public at hand."
The city has about 80 acres of undeveloped land that it performs weed abatement on in order to maintain a fire-safe environment.
Yorba Linda's residents have a responsibility to make sure their own property is clear of combustible weeds by June 15, the city said.