Mamalitia, a California-based community dedicated to promoting self-protection and self-sufficiency, has a message for women.
"I want women to know they are fully capable of teaching their children, they're fully capable of engaging in self-sustainability, and they do not need permission from anybody to do that," Denise Aguilar, the group's founder, told The Epoch Times in an exclusive interview.
"You're capable of creating the community and the environment that you want for your family without interruption or overreach from government entities."
Mamalitia—which has 19 communities in California and a dozen more in Idaho, Louisiana, Nevada, New York, and Washington—teaches its members how to guard against food shortages, teach their children from home, administer first aid, learn natural healing techniques, and safely use firearms.
As advocates for firearm safety training, the group has been criticized—and "borderline slanderously" attacked, according to Aguilar—as extremists.
'Do We Support Women's Rights or Not?'
Critics point to a photo on Mamalitia's homepage—which shows members of the group posing with an assortment of firearms, including an AR-15 rifle, a 9mm handgun, a Mossberg 500 shotgun, and a Kriss Vector submachine gun—as evidence of extremism.
"When you're showing pictures of you with weapons, you are advertising services to train people in firearms. There's no reason whatsoever to think they're not pushing some extremist view," Richard Carpiano, a professor of public policy and sociology at the University of California–Riverside, recently told Sacramento's CBS13.
Thornton begs to differ. "Mothers protecting and taking responsibility for their children and ensuring their health and well-being and education isn't extremism. It's actually the most noble and ancient primal human drive," she said.
"There's nothing wrong with firearms, and there's nothing wrong with learning the safety of it so accidents do not happen. And there is nothing wrong with encouraging women to protect themselves. It's extreme to think that women holding a firearm is dangerous. Do we support women's rights or not?"
In her view, the homepage picture represents powerful women exercising their Second Amendment rights. More importantly, she noted, many women have experienced abuse and have been attacked. A survivor of sexual assault, Aguilar fully supports a woman's right to own a firearm and protect herself.
"Like I've said many times, an armed society is a polite society," she said. "I want my daughter to know if she can legally CCW [Carry a Concealed Weapon]. I want her to have that with her, because I do not want her to experience the trauma that I did."
Aguilar said there are women in Mamalitia who "don't have firearms and don't want firearms." She explained that firearm safety and training is only one small aspect within the greater scope of what their communities aim to accomplish.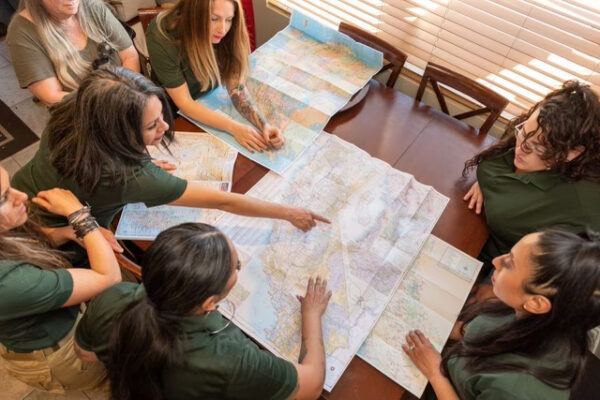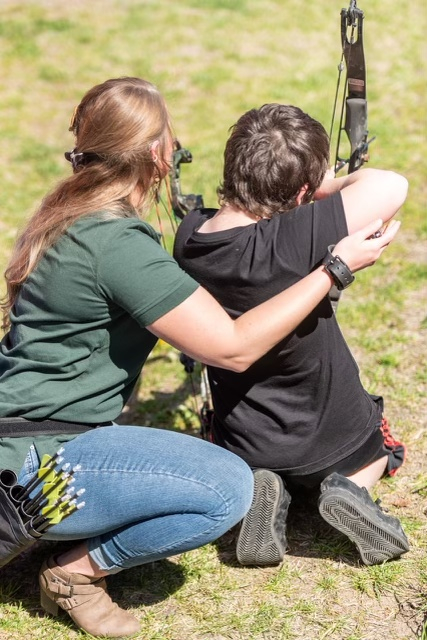 'Little House on the Prairie' Meets Girls Scouts
Aguilar, a mother of three from Stockton, formed Mamalitia in 2019 with her partner, Tara Thornton, after recognizing a need for women to be prepared during times of uncertainty.
"We've come together originally as friends and moms fighting on issues of inalienable human rights and civil rights," Thornton told The Epoch Times. "And through that process, over the years, we've been a part of a broad network of moms and women who've been fighting for their children."
Aguilar said the pandemic reiterated the need for women to be ready to face anything.
"None of us should have been in the situation that we were in during 2020," she said. "Nobody was really prepared. My children weren't prepared. I wanted to make sure that if anything like this happened again, my children's health—their mental and emotional well-being—was not going to be put in jeopardy anymore."
Aguilar and Thornton said they became more aware of a need for personal sovereignty and self-reliance. They spoke with "countless mothers around the nation" who started to radically re-evaluate what their lives were versus what they could be.
Mamalitia offers "a natural space for all of us mothers to create a world that we want for our children," said Thornton.
With Thornton's guidance, Aguilar said she wanted to create a community she describes as "'Little House on the Prairie' meets Girl Scouts for adults."
Added Thornton: "It's going back to what our great grandmothers had as skill sets. Listen, we're pioneering, but we're also not reinventing the wheel solo for everyone. Let's figure it out together."
Helping Families Homeschool
One major need the group is seeing among mothers is the desire for alternatives to public education.
"We have a lot of women who want to homeschool, because the public school system just completely destroyed the mental and emotional health of our children," said Aguilar. "My main priority right now is to create the help for these families who do want to homeschool [and] be fully engaged in their children's education."
For women who find the prospect of teaching at home daunting, Mamalitia provides guidance. They connect mothers with a member who specializes in creating homeschool curriculums, and reassure them that teaching at home doesn't have to replicate traditional schooling.
"The biggest concern is socialization, so one of the things that we do is create these homeschool co-ops that do field trips [and] park dates that have that type of social interaction," Aguilar said.
"What the state of California did in locking our children out was really damaging to a lot of these kids. … The children that we're seeing are disconnected and mentally drained … from not being able to talk with other kids."
Interest in homeschooling was especially prominent in Mamalitia's community in Orange County, California, she said. While they don't provide membership numbers for specific communities, Mamalitia estimates to have about 150 members in California.
Skills for Self-Reliance
Aguilar stressed that Mamalitia—admittedly a tongue-in-cheek name—isn't an actual militia at all. "Under the California Constitution, we do not fall under the structure of a militia. We are not out there to be on the front lines; we do not want to be called by the governor if he were to call on the militia," she said.
Aguilar also dispelled the widespread claim that Mamalitia is "anti-vax."
"We don't even talk about vaccines in our community. It's something that's not my business," she said.
Vaccines are viewed as a "personal decision that has nothing to do with Mamalitia," she said, adding that there are community members who do vaccinate.
Aguilar, a second generation Mexican-American, said the group is a nonpartisan, apolitical community that includes members from a vast array of racial and ethnic backgrounds.
"We are simply here for our mission statement of creating a different way, because the old way just is not working for us," she said. "Our main goal is to give these women the skills … to be able to not rely on outside agencies to help with their lives."
Added Thornton: "We're already capable. We already have everything within us to live a meaningful life and build the world we want. We're working on doing that with our mama bears and sisters all over the world, and we'll help guide our families that way."