Rep. Bob Gibbs (R-Ohio) led a group of 34 Republican lawmakers urging House Speaker Nancy Pelosi (D-Calif.) to end pandemic-related restrictions on the House floor, including staggered voting and mask-wearing.
In a letter (pdf) on Friday, Gibbs and his GOP colleagues called on Pelosi to end COVID-19-related restrictions on House operations, referencing a Thursday announcement by the Centers for Disease Control and Prevention (CDC) saying that vaccinated individuals generally no longer need to wear masks in any settings, indoor or outdoor.
Gibbs said in a statement that "it is time to set an example for the American people" and urged Pelosi to "follow the science, stop the mask-erpiece theatre."
"Based on sound science, the CDC says those who are vaccinated have an incredibly low risk of becoming infected with coronavirus," Gibbs said. "With that data, there is no reason the House of Representatives should not be fully open and returned to normal operations."
"The House of Representatives is filled with enough political drama," Gibbs added. "The last thing we should be doing is contributing to vaccine hesitancy with the same Mask-erpiece Theater Congress engaged in during Biden's address to the joint session."
The reference to President Joe Biden's joint session address recalls remarks made by former President Donald Trump, who in an interview on Fox Business following the address criticized the COVID-19 protocols, which involved physical distancing and mask-wearing.
"Nancy's mask was the biggest mask," Trump told the outlet. "They love those masks and everybody in that room had a vaccine, was in good shape, they could have done it much differently."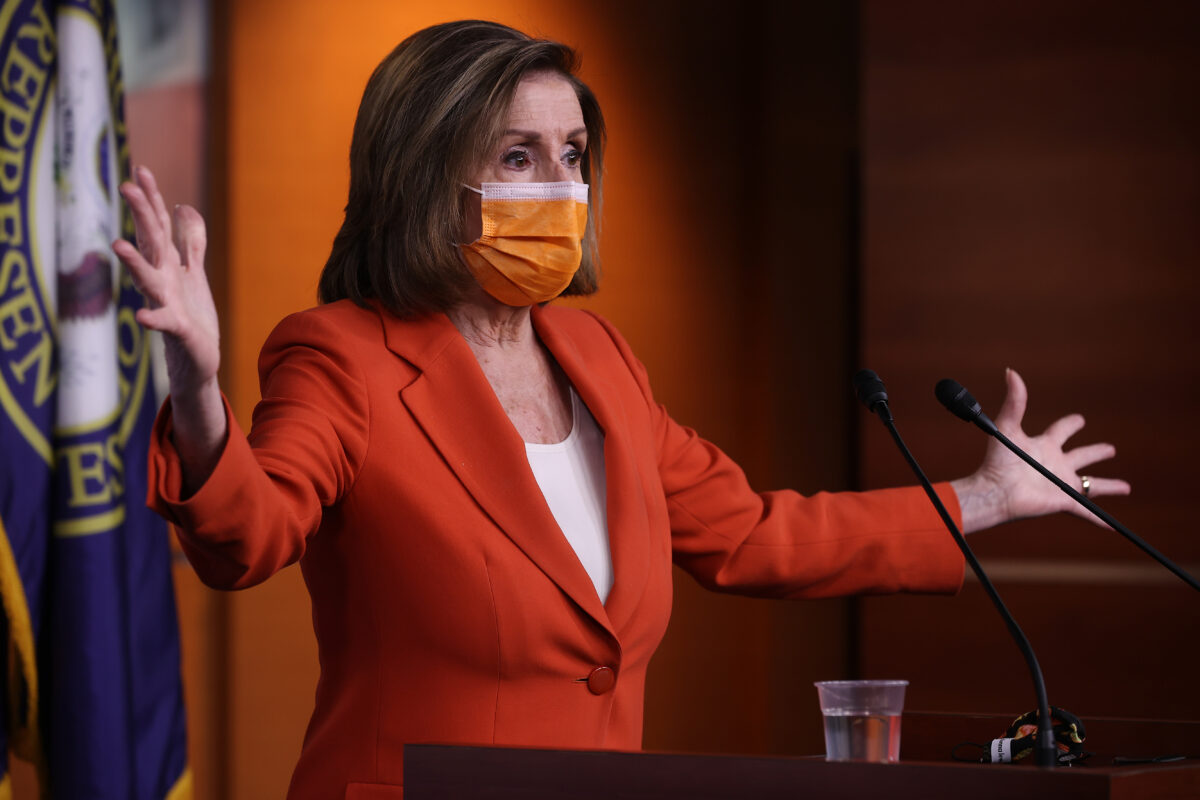 The letter comes after reports that Pelosi has opted to maintain the mask-wearing requirement for members of Congress and staff on the House floor despite the new CDC guidance.
Pelosi told CNN on Thursday that she has no immediate plans to lift the mask mandate, while her spokesperson, Drew Hammill, told Bloomberg that same day that she isn't easing the requirement because it's unknown how many House members and their staff members are vaccinated.
The Epoch Times has reached out to Pelosi's office for comment.
Several days ahead of the CDC announcement, Pelosi said the House rules on wearing masks would be relaxed, so lawmakers could remove them when they are recognized to speak during debate.
Republicans cheered the CDC's easing of mask-wearing guidance and urged Pelosi to lift the mask-wearing restrictions in the House entirely.
"Madam Speaker … I ask that given the updated CDC guidance, we all take off these stupid masks," said Rep. Brian Mast (R-Fla.), demonstratively placing his mask on the seat behind him.
Rep. Tim Burchett (R-Tenn.) sent a letter (pdf) on Thursday to Pelosi, urging her to end proxy voting, virtual committee hearings, mask mandates, restricted access to the Capitol complex, and the suspension of Capitol tours.
Masks became a political flashpoint during the pandemic, with Republicans arguing that mandates on facial coverings infringed on individual liberties. Mask-wearing has become an increasingly contentious issue amid the vaccination drive, as many have questioned why it's necessary to still wear a mask after getting the vaccine.