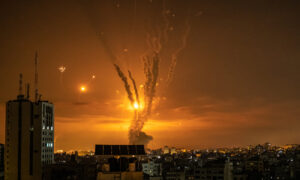 Raises concerns for journalists as alleged Hamas base and media offices bombed in Gaza
President Joe Biden spoke with Israeli Prime Minister Benjamin Netanyahu on Saturday as the conflict between Israel and Islamist terrorist group Hamas continued into its seventh day.
Biden during the call reiterated his strong support for Israel's right to defend itself against missile attacks from Tehran-backed Hamas and other terrorist groups. Hamas, Islamic Jihad, and other militant groups have fired around 2,300 rockets from Gaza into Israel since Monday, the Israeli Defense Forces (IDF) said on Saturday. It said about 1,000 rockets were intercepted by its missile defences but that 380 were misfired and into the Gaza Strip, adding to the death and injury of civilians in Gaza.
Israel has launched more than 1,000 precision air and artillery strikes aimed at Hamas and other militant targets that are often built close to civilian landmarks in the densely populated coastal strip.
The exchange of fire has killed at least 149 people killed in Gaza, including 41 children, and 10 people in Israel, including two children.
According to a readout of the call, Biden condemned the "indiscriminate attacks" by the terrorist groups on Israel and expressed concerns about "intercommunal violence" reported in Israel's Jewish-Arab communities.
"The President voiced his concern about violent confrontations in the West Bank. He expressed his support for steps to enable the Palestinian people to enjoy the dignity, security, freedom, and economic opportunity that they deserve and affirmed his support for a two-state solution," the White House statement said.
He also raised concerns about the safety and security of journalists covering the situation in the area. The comment follows the targeted destruction of a 12-story building in Gaza City on Saturday that Israel said "contained military assets belonging to the intelligence offices of the Hamas terror organization."
The building also housed civilian operations, including the U.S. Associated Press, Qatar-based Al Jazeera, as other offices and apartments. All were able to evacuate after the owner received advanced warning of the strike from Israel. The IDF said they notified civilians by phone, SMS, and by dropping "roof knocker" bombs to warn them about the operation.
In a series of statements, the Israel Defense Forces said the operation was conducted on the civilian building that had been transformed into a military stronghold by Hamas. They said the building was used for military purposes such as intelligence gathering, planning attacks, command and control, and communications.
5/ We'll say it again: When Hamas places military assets inside such a building, it becomes a lawful military target. This is clear international law.

— Israel Defense Forces (@IDF) May 15, 2021
"The building contained civilian media offices, which Hamas hides behind and deliberately uses as human shields," the IDF said in their statement.
The AP has condemned the attack, demanding that Israel put forward its intelligence as evidence that Hamas was operating in the building.
"AP's bureau has been in this building for 15 years," Lauren Easton, AP's Director of Media Relations, said in a statement. "We have had no indication Hamas was in the building or active in the building. This is something we actively check to the best of our ability. We would never knowingly put our journalists at risk."
Commentators have since pointed to a 2014 article by former AP report Matti Friedman, who wrote that Hamas fighters had previously "burst into the AP's Gaza bureau" which AP wouldn't report on due to threats. AP staff had also witnessed Hamas "rocket launches from right beside their [Gaza] office."
Hamas said its rocket assault on Monday was in response to weeks of tensions over a court case to evict several Palestinian families in East Jerusalem, and in retaliation for Israeli police responding to Palestinian rioters who Netanyahu's office said planned the unrest near the city's Al-Aqsa Mosque, Islam's third holiest site, on May 10 during the Muslim holy month of Ramadan.
Netanyahu in a press conference on Saturday vowed to respond forcefully against Hamas attacks on Israel, which he said were "unprovoked."
"Several Israelis have been killed. Many more have been wounded. You know and I know, no country would tolerate this. Israel will not tolerate this," he said. "We will continue to respond forcefully until the security of our people is reinstated, restored."
Israel and Hamas have waged multiple conflicts since the terrorist group took control of Gaza in 2007. Israeli airstrikes in retaliation to rockets attacks from terrorist groups in Gaza are not rare.
Biden also spoke with Palestinian Authority President Mahmoud Abbas "to convey the U.S. commitment to strengthening the U.S.-Palestinian partnership," according to the White House.
The president "discussed the current tensions in Jerusalem and the West Bank and expressed their shared desire for Jerusalem to be a place of peaceful coexistence for people of all faiths and backgrounds," according to a readout of the call. He also stressed the need for Hamas to cease firing rockets into Israel.
The U.N. Security Council is scheduled to meet on Sunday to discuss the worst outbreak of Israeli-Palestinian violence in years.
Mimi Nguyen-Ly and Reuters contributed to this report.